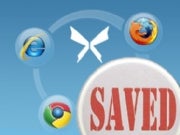 Xmarks, a popular tool for sharing bookmarks between browsers, is back from the brink of oblivion according to the company's Chief Executive Officer James Joaquin. In September the company said it had run out of money and announced Xmarks would be shut down abandoning its two million customers. In a blog post Thursday Joaquin announced the company has multiple offers from companies "ready and willing to take over the service."
Xmarks is a popular bookmark-syncing platform that works across most of the major Web browsers, including Chrome, Firefox, Internet Explorer, and Safari. It allows users to synchronize their bookmarks in different browsers and on different computers–extremely helpful if, say, you have a computer at work and a computer at home. The company, originally called Foxmarks and available only for Firefox, was founded in 2006.
Xmarks announced just a couple of weeks ago that it could not longer sustain itself and would therefore be shutting down its service. According to a blog post, Xmarks had no business model and thus no way to support its database of 2 million non-paying users. Xmarks set a shutdown date of January 2011, and encouraged its users to find other bookmark-syncing programs.
Since Xmarks announced its shutdown users stepped forward and protested the company's demise –even pledging to pay between $10 and $20 per year for the service.
Xmarks announced last week that it had received "a lot of credible interest from companies interested in acquiring the Xmarks assets and taking over the service." While there are no concrete details yet, Xmarks is "hustling to get a deal completed in the near future," the company stated.
Xmarks is not yet certain what the new Xmarks will look like, but Joaquin said in the blog post that it looks like at least some of the features will remain free, while "more advanced features" will be reserved for paying "Xmarks Premium" users. If you'd like to help out, you can still go over to the Pledgebank page and pledge to pay between $10 and $20 per year for the service– it has already received 30,000 pledges.
Last year the popular URL shortening service Tr.im also avoided a financially related shutdown when users rallied to save the service.