It's Friday, so let's have some fun. Ever read something on the Web that made you so mad, you just wanted to blast the entire page to smithereens?
Before you put your fist through your monitor, click on Erik Rothoff Andersson's Asteroids bookmarklet. This clever bit of JavaScript programming turns the current Web page into one big Asteroids game. But instead of shooting space rocks, you're blasting away bits of the page.
Die, ad banner! Die, blurry screenshot! Die, lame attempt at humor by hack columnist! I can't begin to tell you how fun and satisfying this can be (especially if you make little "pew-pew!" noises while you're doing it–sadly, the game lacks sound effects).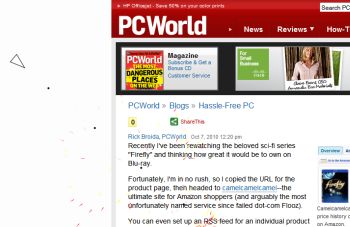 To play, just drag the bookmarklet to your browser's Favorites toolbar, then click it on any Web page. When your little triangular ship appears, pilot it using your arrow keys (anyone familiar with the real Asteroids will have no trouble), and press the space bar to shoot.
When you're done, just refresh the page to bring it back. Now, go and have fun! If you're looking for a good page to start blasting, try this one. (Kidding, just kidding.)