Google is shutting down 1-800-GOOG-411, a directory-assistance service that uses voice recognition to connect callers to businesses in the U.S. and Canada. Launched in 2007, GOOG-411 was advanced for its time–yep, all of three years ago. Today, however, it appears positively quaint, particularly when stacked against Google's newer, more sophisticated voice-search tools for smartphones.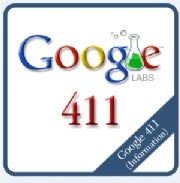 GOOG-411 will shut down November 12. I am a fan of the service, an automated version of the old 411 directory assistance–with a living, breathing operator–of days past. Granted, I found myself using GOOG-411 less and less, particularly as more advanced options became available.
I last used GOOG-411 a few months ago to contact a local animal shelter after my son found an injured squirrel that had fallen out of a tree near his school. On behalf of the squirrel, which survived, thank you, Google.
GOOG-411 paved the way for today's relatively refined speech-recognition tools for Android phones, including voice search, which lets you search Google by speaking rather than typing. In addition, voice input lets you fill a text field by speaking. And you can call a business simply by saying its name (into the phone).
Not everybody uses a smartphone, of course. If you're stuck in the flip/feature phone era, Google offers a somewhat clunky alternative to GOOG-411 and its successors. To call a business, send a text message with the business's name and location to 466453 ("GOOGLE"). Google will text you the information.
Contact Jeff Bertolucci via Twitter (@jbertolucci) or at jbertolucci.blogspot.com.