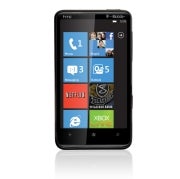 HTC is double-down on Windows Phone 7 handsets announcing Monday it will release five handsets based on Microsoft's mobile operating sytem. From an early sneak peek at the hardware I'm impressed. If HTC's HD7 handset, headed for T-Mobile's wireless network, is any indication of what's to come from Microsoft it appears to have a mobile OS ready to battle against Apple and Android phones.
I received an exclusive look at the HTC HD7 for T-Mobile last week at the CTIA conference. This monolithic phone runs the brand-new Windows Phone 7 operating system and boasts a 4.3-inch WVGA display, a second-generation 1GHz Snapdragon processor and a 5-megapixel camera. I had some doubts about Windows Phone 7, but if all of the phones are as impressive as the HD7, Microsoft may have a big hit on its hands.
If you were enamored by the HTC HD2's gorgeous hardware, but turned off by the fact that it ran Windows 6.5, you will be pleased with the HD7. It is almost identical in design to the HD2, but it has capacitive touch buttons rather than hardware buttons running along the bottom of the display. The hardware buttons on the side are smoother, too, giving it an overall sleeker appearance. Like the HTC EVO 4G (on Sprint also with a 4.3-inch display), the HD7 has a kickstand for tabletop video-watching. The kickstand pulls out from the camera's lens.
Because of its resemblance to the EVO 4G, I was fully expecting the HD7 to have a front-facing video camera. Unfortunately, this isn't the case. The 5-megapixel camera with a dual-LED flash took pretty good shots during my quick hands-on use and I always like the inclusion of a dedicated camera key. The Windows Phone 7 camera interface took some getting used to, though. The on-screen touch controls are a bit too small for my liking and I had some trouble tweaking them while snapping a picture. I'll definitely have to further examine this camera interface once I get a WP7 phone review unit in house.
Another downside is that the HD7 does not support T-Mobile's HSPA+ network; it supports HSPA 7.2Mbps download speeds. I also got to test out the T-Mobile G2 last week, which does support HSPA+, and was impressed with how quickly Web pages loaded. It is disappointing that the HD7 was left out of this upgrade.
I was pleased, however, with how fast the HD7 was. Windows Mobile has a bad reputation for being sluggish and heavy, but Windows Phone 7 felt light and speedy. Applications opened promptly and menus scrolled quickly and smoothly.
The HD7 is being marketed as the ultimate entertainment smartphone and T-Mobile has thrown in a few apps to help you get started. The Netflix streaming app is definitely the most impressive and nicely showcases the HD7's generous display. The 1980s classic "Teen Wolf" ran smoothly with very little pixelation or distortion in our quick demo. The HD7 also comes loaded with the Slacker Radio app, T-Mobile TV along with the XBox Live and Zune apps in WP7. The HD7 also ships with 16GB of on-board memory so you'll have plenty of space to fill up with movies and photos.
I'll put the HD7 through the ropes once I get a review unit in house, but I really like what I've seen so far. I also need to spend more time with Windows Phone 7 to determine its strengths and weaknesses. Stay tuned for more hands-ons and first-looks of phones from today's official Windows Phone 7 Launch event in New York City.