There are just hours to go before Microsoft launches the first round of Windows Phone 7 devices Monday and anticipation is mounting. In a run-up to the Microsoft launch the software giant may have already leaked the official availability date for Windows Phone 7. Two carriers also appear to have given the world a sneak peek at their first Phone 7 devices. Another news outlet is confirming that AT&T will be the anointed carrier for the first Windows Phone 7. And if that wasn't enough, Verizon's chief says he is not impressed with Microsoft's new smartphone platform. Do I detect a hint of bitterness about the Kin fiasco?
Microsoft's official announcement starts at 9:30 a.m. ET in New York City. If you want to watch the festivities, Microsoft is offering a live stream here. Until then, let's dive in and take a look at the latest leaks, rumors and prognostication over Windows Phone 7.
November 8
Microsoft appears to have been so excited about Windows Phone 7 the company leaked its planned November 8 release date a little bit early, according to Engadget. Microsoft reportedly had this image sitting on its own Website. The ad has since been taken down so it's impossible to know for sure if this ad is the real thing. However, the ad matches the size of similar Microsoft ads, and November 8 has been a long rumored street date for Phone 7.
Reuters reported Monday morning that AT&T will be the exclusive Windows Phone 7 carrier at launch–a persistent rumor for some time. If the report is accurate it begs the question what T-Mobile will be announcing today at the Microsoft event since the carrier was mentioned in Microsoft's Phone 7 press invitation.
Samsung Focus
Alongside the street date, Engadget also reportedly spotted an ad for a Windows Phone 7 device called the Samsung Focus. The gadget blog believes this is the same device as the previously spotted Samsung prototype code named Cetus. The Cetus, according to Engadget, features a 4-inch 800-by-480 AMOLED display, 5 mega-pixel camera, front-facing camera, FM radio tuner, 802.11 b/g Wi-Fi, USB 2.0 and Bluetooth.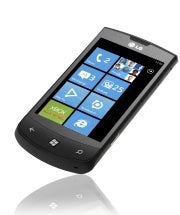 LG Optimus 7
Someone in LG's U.K. office caught Phone 7 fever and hit the "publish" button a few hours earlier than expected for the Optimus 7, LG's first Windows Phone 7 handset. LG has since realized its mistake but not before the eagle eyed bloggers at Slashgear caught the mistake. Google was also on top of things, and you can find a cached version of the press release here.
It's not clear if the Optimus 7 is headed stateside, but here's a look at the specs. The Optimus 7 features a 3.8-inch capacitive touchscreen with 800-by-480 resolution; 720p high definition video playback; 5 mega-pixel camera with LED flash; Bluetooth 2.1; and digital compass. LG also says the device will have several LG exclusives including DLNA-based multimedia sharing; augmented reality features to enhance real-time search; and voice-to-text transcription for SMS, Facebook and Twitter updates, e-mail and memos.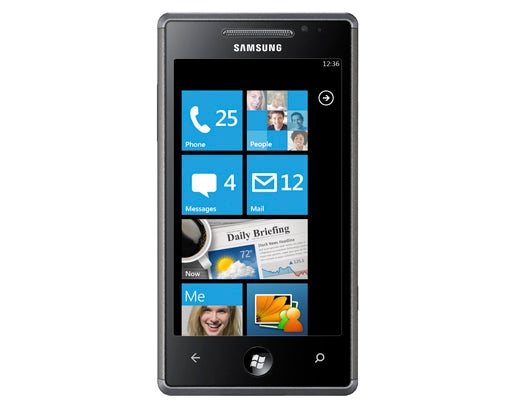 Samsung Omnia 7
Samsung's Russian office also couldn't wait a few more hours for Microsoft's official announcement, and dropped the ball early. Samsung's Russian site is showing a device called the Samsung Omnia 7 featuring a 4-inch SUPER AMOLED WVGA screen with 800-by-480 resolution, 720p video playback at 25 frames per second, Qualcomm 1 GHz processor, 5 mega-pixel camera, 8GB onboard memory, 802.11 b/g/n Wi-Fi, Bluetooth 2.1 and FM Radio. The Samsung leak was another gaffe spotted by Slashgear.
Verizon Not Won Over
Verizon may have gone all in with Microsoft's giant flop known as the Kin device–the high-priced, Internet-connected feature phone targeted at younger adults. But the carrier is not convinced Windows Phone 7 will be a hit. Verizon CEO Lowell McAdam recently said that as far as his company is concerned there are only "three major mobile operating systems: RIM, Google, and Apple," according to CNET. When asked if Verizon saw Microsoft as a major player in the smartphone space, the Verizon chief said, " No not at the moment. Microsoft is not at the forefront of our mind."
In response to a question about whether Verizon's reluctance to carry Phone 7 had anything to do with the short-lived Kin, McAdam said, "Our device suppliers have to demonstrate to us that they will be developing leading edge products. And if they are not leading edge, then we can't afford to carry them in our stores."
Verizon is not averse to working with Microsoft it seems, but the ball is clearly in the software giant's court. Will Microsoft be able to deliver an innovative product in Windows Phone 7? Only a few hours until we know for sure.
Connect with Ian Paul ( @ianpaul ) and Today@PCWorld on Twitter for the latest tech news and analysis.