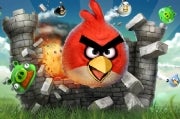 When Windows Phone 7 launches on Monday it may offer a host of cool games thanks to Xbox LIVE integration, but Rovio Mobile's Angry Birds isn't one of them.
That fact didn't stop Microsoft from borrowing the familiar fuming birds to promote Phone 7 on its Website, according to WMPower User. The blog snagged a shot of an Angry Birds icon sitting alongside other popular smartphone applications such as Tap Tap Revenge and the Pulse newsreader on Microsoft's Phone 7 site.
If Microsoft can get hit games like Angry Birds on Phone 7 "they can remain a very relevant platform," WMPower User said. Problem is Angry Birds won't be on Phone 7 any time soon.
"We have NOT committed to doing a Windows Phone 7 version. Microsoft put the Angry Birds icon on their site without our permission," Rovio Mobile tweeted on Sunday. Uh-oh Microsoft, better get your crash helmet on, because it sounds like a flock of little red birds is headed your way.
Not Mad, Just Angry
Luckily for Microsoft, however, Rovio wasn't upset about the gaffe after all. "We didn't get mad, just wanted to set the record straight," the company tweeted later in response to a user comment. "And we haven't said we wouldn't do WP7."
It's not hard to see why Microsoft would want to announce Angry Birds for Windows Phone 7. In August, Rovio said it had sold 6.5 million copies of its smartphone game in the iTunes Store alone–Angry Birds is also available on Nokia's Ovi Store, and is coming soon to Android and Sony PSP. Plush toy versions of the video game characters are also in the works, and they may even get their own TV show or movie.
Potential Phone 7 users also appear to be begging Rovio to bring Angry Birds to Microsoft's platform. "Make the game for WP7 I will buy it," said Twitter user Sandrobber. Javiergc said, "You really should do a Windows Phone 7 version, with Xbox LIVE it could be really cool." "Please, please, please, please, please, port Angry Birds to WinMo7!" Molbal tweeted. To which Rovio replied, "We are looking into it."
Angry Birds and the Mighty Eagle:
Connect with Ian Paul ( @ianpaul ) and Today@PCWorld on Twitter for the latest tech news and analysis.