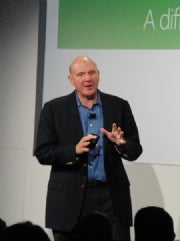 Microsoft's CEO Steve Ballmer officially launched the Windows Phone 7 mobile operating system Monday and announced nine new phones and partnerships with wireless carriers. It's a landmark moment for Microsoft that needs to prove its Windows-centric phones, with links to Microsoft Office, Xbox Live, and a nascent library of apps, can woo the masses away from Apple, Android, and BlackBerry-based phones. The first handsets with the new OS will be available November 8, said Ballmer.
Here at a press event in New York City Ballmer did his best to make the case the Windows Phone 7 smartphone platform has legs and will carve out an ample niche in the smartphone market it has yet to crack.
[See Related: HTC's Windows Phone 7 Shines: Hands-On with the HD7 ]
Windows Phone 7: A Break from the Past
Windows Phone 7 completely leaves behind the legacy of the Windows Mobile 6.5, Pocket PC, Windows CE and other iterations of Microsoft's old mobile platforms, which required users to attack some screen menus with a small stylus. Instead the new colorful interface uses large icons and tight Web and Microsoft Office integration to create the software giant's first fully finger-friendly front door for smartphones.
Windows Phone 7: A Social Smartphone
At the news conference Microsoft representatives stressed the social aspects of the phone, such as the ability to access photos you've archived on Windows Live and Facebook as easily as the photos taken with the phone. Contacts from all local and Web sources can be integrated on the phone and, like the now-defunct Microsoft Kin phones, your photos are saved to the cloud as you take them.
Joe Belfiore, corporate vice president for the Windows Phone program, said the new operating system was designed "to create an environment that becomes deeply personal."
Where Are The Apps?
Notable by their limited presence, however, were Windows Phone 7 apps. The new phones showed off at the conference, which included the Samsung Focus, the LG Quantum and the HTC Surround, had precious few apps installed beyond what would normally come with the phones. Some of those included Fandango, Twitter, Netflix and the iFood Plus Food Assistant. During the presentation apps for eBay, the IMDB online movie database and AT&T U-Verse streaming media service were shown.
However, Belfiore said that "hundreds of thousands of developers have downloaded the free [application] development tools and are developing Windows Phone apps right now."
He announced that EA will have a full slate of games for Windows Phone 7 and showed off an upcoming version of The Sims. What Microsoft hopes will set Windows Phone 7 apart is its integration with Xbox Live games and its Zune music features, both of which are not available on other phone platforms like Android and iPhone.
Windows-Friendly Windows Phone: Who Would of Guessed?
While demonstrating the phone's tight integration with Microsoft Office applications such as Word, Excel, PowerPoint, Outlook and OneNote, he showed how the phone can automatically recognize an address embedded in an appointment. Touching the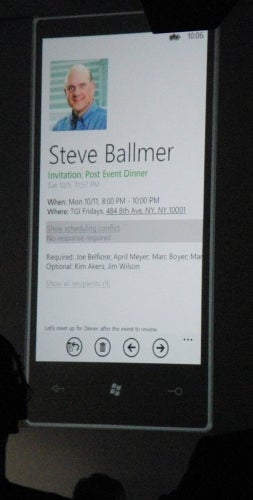 address launches a map which eventually switches from map to satellite view as you zoom in on the address.
Pushing and holding the "home" button on a Windows Phone 7 phone launches a voice recognition feature that lets you say what you want to do, like locate an airline flight. You voice goes to Microsoft's TellMe service server and is deciphered and the information you requested is returned to you-if it can make out what you said.
What's coming for Windows Phone 7 in 2011? Cut and paste, according to Belfiore, who admitted that the tasks were not included in the original Windows Phone 7 feature set but would be added with a free over-the-air update next year.