Ever wish there was a magical computer genie that could help you install software, set up printers, remove viruses, and solve everyday problems?
Forget genies–what you need is a tech-savvy buddy, someone who can remotely connect to your PC for all your help and troubleshooting needs.
In my family, that person is me. Everyone else should check out Comodo's GeekBuddy, a new service that offers live, real-time help from a support technician–seven days a week.
GeekBuddy offers virus diagnosis and removal, PC tune-ups, software and printer setup, printer and PC troubleshooting, ID-theft protection, and even help setting up e-mail accounts.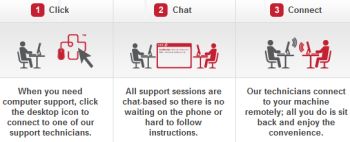 All support sessions are chat-based, which I think is highly preferable to getting on the phone with someone who might be hard to understand (or hard of understanding). Chat may be slower overall, but ultimately I find it more productive.
The only wrinkle, of course, is if you're having a problem with your Internet connection, or the virus/malware you need to have eradicated somehow blocks the chat session. Both would prevent your "buddy" from establishing contact.
Still, GeekBuddy sounds like a winning proposition to me, especially for those users who don't have a friend or family member they can call on for help. The service costs $49.95 per year, which to my thinking is very reasonable, and you can try it free for 60 days (a pretty amazing trial period, IMHO).