If you're a veteran Windows Mobile user who's mastered the mobile Office applications on a Windows-powered smartphone, get ready to go back to school. Windows Phone 7 puts a fresh, new face on Office; one that aims to make users more efficient, but does requires a little relearning.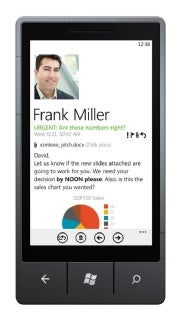 Unlike Windows Mobile 6.5, which bears a faint resemblance to the old Windows CE operating system first used on phoneless handheld computers, Windows Phone 7 is totally finger-powered, and lets you navigate menus by swiping and touching.
Despite the changes in the interface, the mobile versions of documents, spreadsheets and presentations opened on the phone now bear more of a resemblance to the files when opened on a PC.
The home screen of Windows Phone 7 handsets come with an Office hub icon that provides quick access to Word, Excel, PowerPoint, and OneNote files. When the home screen locks after a period of dormancy, your next appointment is shown on the bottom as are the number of unread e-mails and missed calls.
The new sliding interface is not foreign to Microsoft Zune digital music player users, nor to the select few who purchased Microsoft Kin phones during their brief shelf lives in stores. The same concept of swiping up, down or sideways to get from one menu to the other is used throughout Windows Phone 7 and changes the face of Mobile Office.
For example, when you open Outlook e-mail on a Windows Phone 7, you get a neat list of all of your e-mail in a comfortably large font with icons that make it easy to access attachments or perform other functions. Sliding the screen to the left reduces the list to unread e-mail-the filtering has already been done before the finger slide. One or two extra swipes of the finger will switch the view to flagged or urgent e-mail.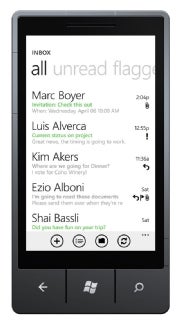 A large app bar appears at the bottom of Office screens offering navigation tools relevant to the open file. A predictive keyboard allows you to type relatively quickly. The phone will make an educated guess at the word you want based on the context but if it gets it wrong, a list of other suggested words appears in a small bar.
When you open an Excel spreadsheet, it maintains much of the look of the original file, including graphs and other features. The same is true of PowerPoint files, which retain most of their animation, audio and other features. Word Mobile supports the table of contents, thus making it easier to navigate long documents.
You can create notes in OneNote and have them automatically sync with the Web, thus allowing you to make updates on a desktop computer or any other device that with a Web browser. The service works with a free Windows Live SkyDrive account and, with more sophistication, on a SharePoint 2010 Web site.
The calendar client in Outlook supports multiple calendars, color coded for clarity. If you get a meeting request with an address, the software recognizes the address and allows you to access a Bing map online. If someone is using PowerPoint 2010 to broadcast a presentation online to up to 50 people, the PowerPoint client on the phone can log into the broadcast and view it as others do from their PCs.
A glaring omission on Windows Phone 7 is cut and paste, an oversight Microsoft representatives said would be corrected in early 2011 with an over-the-air update.
Overall the Office experience is cleaner and faster, and more compatible with the files generated by Office 2010 applications.
In Video: Microsoft Launches First Windows Phone 7 Handsets