Gettysburg: Scourge of War isn't a real-time strategy game for the masses. It has a perfectly functional interface, but you'd never call it "slick." It's more study-intensive than the comparably simplistic Total War series but yields commensurately higher returns. It tackles the mother of all Civil War battles with aplomb and occasionally startling historical verisimilitude, offering control of blues and grays from army scale down to regimental level. It's wargaming without apologies, designed by hardcore history buffs for hardcore history gamers.
This spring I spoke with the Scourge of War's creators, Jim Weaver and Norb Timpko. In part one, we talked about Gettysburg maps, canonical books, and how they got from Waterloo to Little Round Top.
See also: Part two, Part Three.
Game On: We were hoping to get Larry Tagg in on this interview, but it sounds like he's had to take a rain check.
Jim Weaver: Larry had to bow out. I'd forgotten that in his day job, he's an English teacher. He's also this semester the drama coach, and it's the last week before the performance, so he's in the middle of, as he said, frantic rehearsals week.
GO: He sounds like he'd be a fascinating guy to talk to, just for the book on Lincoln that came out last year. Have you read it?
JW: I haven't read the Lincoln book, no. Actually I haven't even read his Gettysburg book, because my wife will probably shoot me if I buy more books on Gettysburg. I've got a stack two wide and three feet tall next to my desk just so that I can grab them when I have some arcane point of Gettysburg history to look up.
GO: The harried life of the grognard.
JW: When you're the lead designer, you have to cover the waterfront in terms of details. Most everybody else can specialize, but I've got to be able to cover the waterfront.
GO: Like fending off crazed wargamers complaining the details rendered on some farmhouse are off by one window.
JW: Oh yeah. We have one guy who…actually it was really useful. When we were developing the game, we'd post screenshots, and he apparently lived in a farmhouse that's in the game for a long time and spent endless amounts of time tramping the battlefield. So every time we'd put up screenshots, he'd look at them, and he would pick out little things that weren't quite right, and then go look up the historical sources to make sure he was correct.
It was quite useful, because that and a couple of stone quarries that we had missed, which are actually sort of 10-foot-across holes in the ground and sunk down a little bit, were the only things that we didn't have right on all three maps.
Next: OOBs, exhaustive battlefield atlases, and Breakaway Games.
Follow us on Twitter (@game_on)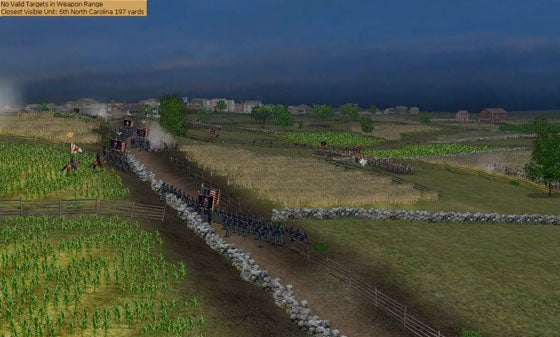 GO: How do you choose which historical "facts" to build from? Say there's dispute in the academic record.
JW: What I've tried to do, and fortunately Gettysburg is so well documented, is there are some reasonably definitive sources that you can use. So we picked one source for the OOB [order of battle] and the officer's list, and we picked another source for unit strength, and that's it. If you don't agree with it, well, okay, but we picked things that are regarded as pretty canonical.
GO: Like the Nafziger OOBs?
JW: This was the Eicher [John H.]. It's posted on the Gettysburg Discussion Group site. And we used The Big Book of Unit Strengths, which I'm just drawing a blank on right now.
GO: You've also recommended a book called The Maps of Gettysburg, which I noticed they just rereleased in a full-color edition.
JW: Oh my. Well if you're really interested in Gettysburg, there's a 400-something-page atlas by a guy named Phil Laino. It's on spiral bound, so it's really good for carrying around and flipping back and forth. It's probably three or four times as detailed as The Maps of Gettysburg.
GO: The Civil War equivalent of Esposito and Elting's Atlas of the Napoleonic Wars?
JW: Yeah, this is definitely…it's really, really good, because there are several places where he'll put up a map that shows it happening one way, and the next page, he'll put up another map, and say, you know, other people think that it actually happened this way. So places where things really are in dispute, he gives you map one and map two. Pick what you want.
But for people doing scenario design it's especially wonderful, because it's very detailed and tightly sequenced. Laino's maps position things down to the regiment, so it's a great resource for strange people like us who build wargames.
GO: Let's talk about NorbSoftDev's history. Norb Timpko actually started with Breakaway Games, the folks behind Sid Meier's Antietam! and the Napoleonic games based on that engine.
JW: Yeah, and we probably want to ping this off Norb to make sure I've got it right, but basically Norb was working as a coder, working at Breakaway writing code. He didn't work on the Civil War games, but he worked on Waterloo: Napoleon's Last Battle.
GO: And Austerlitz [Napoleon's Greatest Victory]?
JW: I can't remember the exact sequence of how things went, because he left after awhile, but that's where he and Adam Bryant hooked up. Adam actually did pixel painting on sprites and getting all the uniforms in, which was mind-numbingly tedious apparently. They didn't render them off a 3D model, they just literally…I don't know the details, but the story is he spent a lot of time painting details in by hand, one pixel at a time. So eventually they decided they wanted to see if they could do something like this themselves. Norb had always wanted to code a game all by himself, and not just be one unit of a bigger machine.
They started out as a two person organization, started writing code, and eventually brought in a third person who'd been very active in the Austerlitz community to give them some player perspective. Then they brought me in for historical perspective, because being a scientist by training, I tend to cite chapter and verse of sources.
Next: MadMinute Games and the Take Command series.
Follow us on Twitter (@game_on)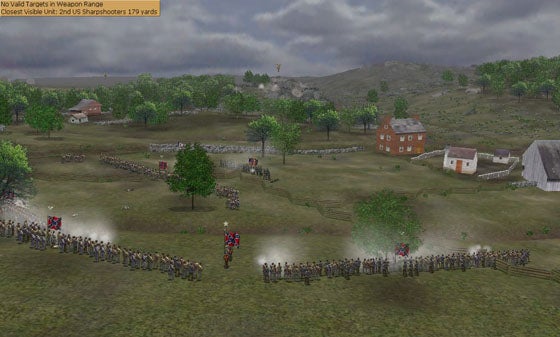 GO: What's your area of training specifically?
JW: I work at a government agency doing laboratory research, so it's a complete change of pace. I end up worrying about strange quirks of biology, how molecules and cells and so forth react to each another, and then at night I go home and try to turn a blinking cursor into history.
GO: So this new team, calling themselves MadMinute Games, starts working on a Civil War real-time strategy game.
JW: It was eventually named Civil War: Bull Run, and we added more people to the test team, but it was still a pretty small group of people. That was released commercially in 2004, and we were all like wow, we did it.
GO: And The History Channel picked that up.
JW: They were brought into it somehow by the original publisher and they basically lent their name to it for some reason or another, but that was all the contact we had with them as far as I know.
So then we went on, and after some back and forth, came out with Take Command: Second Manassas, which was well-received. By that Time, Norb and Adam had been working together for something like five years. I think it was just a case of too close, too long, and they had what amounted to a corporate divorce and went their separate ways.
Norb wanted to continue, but essentially we had to start…it was actually good in the long run, because rather than just continuing on, we had to go back and start over from scratch. Norb ended up recoding a lot of things somewhat differently and more efficiently.
GO: Had Norb coded the original games by himself, or had he and Adam split any of that?
JW: No, Adam is not a coder. He does other things, but he could hardly…as Norb said, he'd be strained to code a basic Do loop. That's not his strength. He was very good in other areas, but he doesn't code.
GO: So MadMinute dissolves.
JW: Norb went off, and the company he'd already formed for doing consulting work, NorbSoftDev, he just folded the wargame effort into that, and after some additional back and forth, he asked me if I'd take on the job of lead designer, which largely amount to being chief cat-herder. We had some people that we'd assembled as a team, and we brought in others necessary to produce the game, and all that culminated in Gettysburg, which came out this spring, to, so far, a pretty good response.
In part two: The design process…
Follow us on Twitter (@game_on)