The iPad is about to become even more ever-present: Wal-Mart has announced it will start selling Apple's mega-popular tablet at its stores and online starting Friday, October 15. "Hundreds" of U.S. Wal-Mart stores will sell the iPad at first, and the company expects the number of available locations to balloon to 2300 by mid-November — perfectly timed for the holiday shopping season.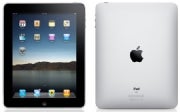 Though Wal-Mart usually trounces the competition with reduced prices — including its savings of over $100 on the iPhone 3GS earlier this year — the company has no plans to modify the iPad's industry-standard price tags of $499 for the cheapest model and $699 for the most decked-out. Similar to other retailers, orders placed through Wal-Mart's Web site will only be available through in-store pickup and won't be delivered to your home.
Wal-Mart is a little late to the iPad-selling game. Best Buy sold the iPad upon its release and Target started to feature the tablet on its shelves last Monday. But the company told the Wall Street Journal that what it "lacked in timeliness it will make up for in sales heft." Indeed, if Wal-Mart's more than 8,400 stores start stocking the iPad, combined with to the 221 U.S. Apple Stores, 1,093 Best Buy outlets and 1,743 Target stores also selling, it'll be impossible to avoid.
Sorry, Android tablets. Apparently you're just not cool enough.
Apple iPad Tablet Computer