As an English major (and self-proclaimed language snob), it bugs me when I see poor grammar and spelling in e-mail, blog comments, status updates, and other online communications.
If you're not linguistically perfect (and ever so humble) like me, check out After the Deadline, a browser plug-in that checks spelling, grammar, and even style for all your online doings.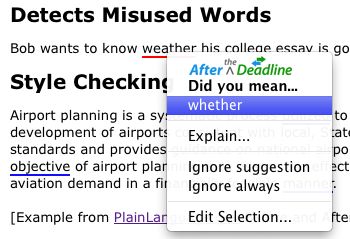 AtD is available for Chrome and Firefox. Users of other browsers can try the AtD bookmarklet, but be warned: It's not nearly as slick. There's also a beta AtD plug-in for OpenOffice's Writer word processor.
As you may know, Chrome and Firefox already have built-in spell checkers that work as you type. So why bother with AtD? Simple: the latter has a lot more features, including context-sensitive checking and the aforementioned style suggestions.
Bottom line: if you're not too swift with the arranging and spelling of words, at least let After the Deadline do a little proofreading before you click Send. It's free, so what do you have to lose?