Roxio PhotoShow (various pricing) is an easy-to-use application that creates slideshows from your digital photos. Digital photo enthusiasts may lament its lack of editing tools, and advanced photographers may find it limited, but newbies will love how easy PhotoShow makes it to create a polished slideshow with minimal effort.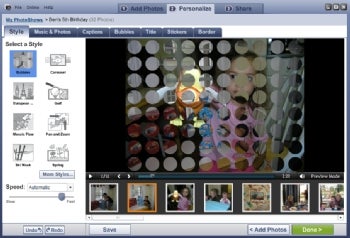 PhotoShow is available in two versions: a free Web-based app that lets you create and share slideshows, and a $40 Premium Service that includes a downloadable app, so you can work offline. The Premium Service also lets you upload as many as 400 photos per slideshow and allows you to store slideshows online indefinitely, while the free version limits you to 24 photos and will store them for 30 days.
When you download and launch the app, it immediately gets you started on creating a new slideshow, by asking you to select a folder of photos to upload. (If you already have slideshows in progress, you can skip this step.) Alternatively, you can select individual photos to upload, which is a good thing, because once you select a folder, PhotoShow automatically imports every photo from that folder; it doesn't let you pick and choose which photos to add, and it doesn't even tell you how many photos are in the folder. Although you do have the ability to delete photos later on, it would be nice to weed out unnecessary photos at the start. I'd also like a bit of warning about how many photos you're about to upload, as I accidentally selected a folder with 375 photos. Luckily, the upload process is quick; my 375 photos uploaded in less than 2 minutes.
Once your photos are uploaded, PhotoShow asks you to name your slideshow, and then begins showing you a demo of it, complete with music and a suggested style. The app uses an easy-to-understand tabbed interface, and starts you off at the Styles tab. PhotoShow offers dozens of styles, which display an introduction to your slideshow, and then displays your photos using a specific transition format. Unfortunately, you can't mix and match different styles to create your own look: If you choose the "Mosaic Flow" style because you like its plain black introductory panel, you can only use it with the mosaic transition, which gradually unveils a photo from underneath the previous one. You can't, for example, combine the Mosaic Flow introduction with the "Carousel" style of switching your photos, which rotates the photos in a circular motion.
The rest of the tabs–Music & Photos, Captions, Bubbles, Title, Stickers, and Border–let you edit and fine-tune the slide show. Music & Photos tab lets you delete or rearrange the order in which your photos appear, and add music to play along with the slideshow. Deleting photos is as easy as clicking a red X icon that appears over each of your photos, but you can only do so one at a time. And you see a small thumbnail of each image in your slideshow, so it's not always easy to tell if you're deleting the right photo, especially if you have several that look similar.
All of the selected slideshow styles come with pre-programmed music, but you can change the songs that play by selecting a track from PhotoShow's built-in music library or by adding your own MP3. While PhotoShow's library offers plenty of songs, most of them are titles that I've never heard of. Adding your own tracks is easy, though: you just click a button to browse your music library, and point the app to the folder where you store your tunes. PhotoShow did not let me update any songs from my iTunes Library (which is hardly a surprise, given Apple's strict restrictions), but I was able to use all of the DRM-free songs I'd purchased from Amazon's MP3 store.
Once your PhotoShow is complete, you can share it in several ways. The app lets you send it via e-mail, upload it to a variety of social networks, export it as a video file, or burn it to a disc. To upload it to a social network like Facebook, you'll need a PhotoShow account, which comes with a member page, where you can also host and share slideshows. I was unable to share my slideshow successfully, however; every time I tried to upload it, I got an error message informing me that the upload had failed. And when I tried to share the slideshow via e-mail, the recipient never received the notification message. Roxio believes the problem was due to a corrupt image in my slideshow, and I was able to share slideshows successfully after creating a new slideshow. I also had no problems sharing slideshows when testing both the Web-based free version and the Premium version of Photoshow on another computer.
If you're looking for a simple way to create slick slideshows, Roxio PhotoShow will meet your needs. But if you're a more advanced user looking for an advanced photo editing and sharing tool, well, you should keep on looking.