Move over, Antennagate: There's a new iPhone 4 controversy in town, and this one's all about the glass. Less than a week after GDGT reported that Apple was looking into reports of scratched and fractured glass cases on the iPhone 4, an independent warranty provider is reporting that the glass on the iPhone 4 is breaking far more often than it did on the iPhone 3GS.
iPhone 4 owners are reporting 82 percent more damaged screens than in the first 4 months of ownership when compared with the iPhone 3GS, warranty company SquareTrade says in a research brief released on Tuesday. SquareTrade also notes that the overall reported accident rate for the iPhone 4 is 68 percent higher than it was for the iPhone 3GS, with 4.7 percent of iPhone 4 owners reporting an accident, up from 2.8 percent of iPhone 3GS owners.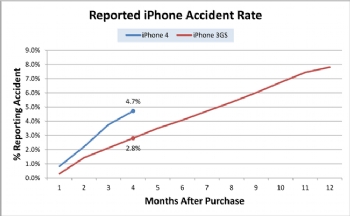 The iPhone 4, which made its debut in June, features a completely new design than past models. Both its front and back are made of aluminosilicate glass, which Apple says is "20 times stiffer and 30 times harder than plastic." At the iPhone 4 launch event, Apple noted that this is the same kind of glass used in the windshield of high-speed trains and helicopters, and an Apple exec said that it is comparable in strength to sapphire crystal.
Apple also noted that the glass is supposed to be fingerprint-resistant, but PCWorld's own reviewer noted that "both the front and back of [her] review unit were ridden with fingerprints after only a couple of hours of use."
Perhaps, then, it shouldn't come as a surprise to find out that the iPhone 4's glass doesn't seem to be quite as scratch-resistant as expected. GDGT's report noted that non-bumper iPhone 4 cases (those that slide on to the iPhone 4, rather than those that fit around its frame) were prone to trapping particles between the rear of the phone and the case. Those particles could cause scratches, which could then grow into fractures.
SquareTrade, meanwhile, reports that almost 4 percent of iPhone 4 owners have reported a cracked screen in their first 4 months of ownership, up from just over 2 percent of iPhone 3GS owners. One theory for the increase is that owners are treating their iPhone 4s as "an object of beauty, and fewer people are using protective cases to cover them," SquareTrade says.
The company also notes that the fact that the iPhone 4 features significantly more glass surface than its predecessors cannot be ruled out as a factor, too. SquareTrade says that while its data "doesn't identify which broken screens resulted from dirt trapped behind a slide case, at least a quarter of the broken glass claims involved the back screen."
The company also notes while "the back screen is accounting for a large portion of the increase in accident claims…whether or not they account for the entire increase, we can't be sure."

SquareTrade goes on to say that, "with 82 percent more cracked screens reported, the evidence suggests that the iPhone 4 is more vulnerable to physical damage than its predecessor. "
Does this news make you any less likely to purchase an iPhone 4? And, if you already own one, does it change the way you feel about your phone? Let us know in the comments.