It looks like Steve Jobs' dream of family-friendly technology might just come true. On Tuesday an Apple patent for an "anti-sexting" device was approved by the U.S. Patent and Trademark Office.
According to TechCrunch, the patent was filed in 2008 by Apple, but was just approved. The patent is for "systems, devices, and methods" for "enabling control" of the content of text-based messages. While the patent wording doesn't use the term "sexting," it's pretty obvious where Apple is coming from (although, perhaps Apple will also use the patent to censor words such as "Google," "Android," and "Microsoft").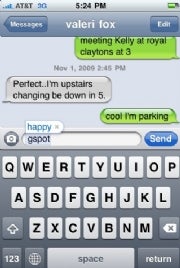 The first part of the patent describes the "anti-sexting" measures:
"Systems, devices, and methods are provided for enabling a user to control the content of text-based messages sent to or received from an administered device. In some embodiments, a message will be blocked (incoming or outgoing) if the message includes forbidden content. In other embodiments, the objectionable content is removed from the message prior to transmission or as part of the receiving process. The content of such a message is controlled by filtering the message based on defined criteria. The criteria may be defined according to a parental control application."
Seems pretty basic–it's a patent for censoring text messages. It's kind of like those personal television censors that bleep out "objectionable" words and replace them with safe alternatives (they usually use the closed-caption text in order to figure out which words are objectionable, so this is very similar). Perfect for parents who like to control every inch of their children's lives.
But that's not all–there's more:
"These techniques also may be used, in accordance with instructional embodiments, to require the administered devices to include certain text in messages. These embodiments might, for example, require that a certain number of Spanish words per day be included in e-mails for a child learning Spanish."
Ah, even better for control-freak parents. Not only can you keep your child from "sexting" with their peers, but you can also screw with their e-mails so they're forced to learn languages.
Is it just me, or does this patent seem like a waste of time? Since I was a teen not too long ago, I can tell you this: kids will be kids–and they'll always be able to get around censors, especially when it comes to electronic communication (why do you think words such as "pr0n" exist?). Also, it's not like this new technology will be able to censor objectionable pictures, and, well, those are easily worth thousands of words.