It's not the most likely scenario, but if you own a Mac and have a Windows Phone 7 smartphone you can sync data between the two. Microsoft said in a statement to Engadget "later in 2010" Mac users will get a software tool to sync their computers with any of the Windows Phone 7 devices introduced this week."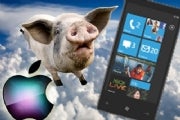 The statement comes shortly after a Microsoft U.K. executive let slip on Twitter (message now deleted) that Windows Phone 7 and Zune syncing will "soon" come for Mac users. It is unclear whether the software client will allow users to sync more that music from their Macs onto a WP7 phone, as Microsoft said in the statement that only "select content" could be synchronized.
Microsoft did not explain how the syncing works. It's speculated that Microsoft's Mac syncing software tool for the Windows Phone 7 will work in the same way the Zune software does on PCs for syncing media, photos, music, and videos.
On November 8 five Windows Phone 7 smartphones will debut in the U.S., with a sixth one arriving later next year. AT&T will carry the HTC 7 Surround, the LG Quantum, and the Samsung Focus, T-Mobile will have the HTC HD7 and the Dell Venue Pro (aka Lightning) and Sprint will carry next year the HTC 7 Pro.
You can see how the six new Windows Phone 7 smartphones compare with the iPhone 4 and the Droid X in our smackdown chart.
Follow Daniel Ionescu and Today @ PCWorld on Twitter.
In Video: Microsoft Launches First Windows Phone 7 Handsets