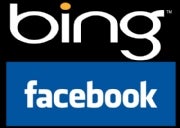 Facebook co-founder Mark Zuckerberg joined Microsoft Wednesday to announce new "social search" features in the Bing search engine.
Bing, with the help of Facebook, will now deliver search results that are informed and focused by information the search engine borrows about you and your friends from Facebook.
Here's how Microsoft says it works: If you're looking online for a movie to watch, just searching "new movies" seldom delivers a movie you'll actually want to see. With Bing's new "instant personalization" features from Facebook, Bing will now be able to consult the tastes of your friends on Facebook to deliver search results containing movies that you are more likely to enjoy.
At Bing, the Facebook-assisted search results will show up in a module on the "Bing Web" page. For instance, if you do a search for steak houses, a list of steak houses will display next to a map at the top of the results page. Below that, another group of results will appear under a heading saying "Liked by your Facebook Friends."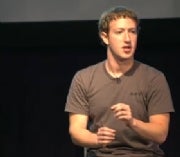 People searches at Bing will also be helped by Facebook. Just like at Facebook, when you search for a person, your friends and the friends of your friends might turn up in the search results. And, Bing director of product management Todd Schwartz tells me, only friends that you are connected to in Facebook will show up in people search results at Bing.
Within the next few days, Schwartz says, Bing users will see a small message box at the top of the page announcing the search engine's use of Facebook data, and asking if they would like to "opt out" of sharing that data. This message will appear the next five times users run a search at Bing. Users must also be logged into Facebook in order for Bing to use their Facebook information, Microsoft says.
Facebook founder Mark Zuckerberg points out that users can prevent Facebook from sharing their information with Bing by adjusting their privacy settings at Facebook. He also points out that Facebook users' data will not automatically be ported over to Bing, but only if the user is logged in to Facebook and only if Bing requests the data. Even then, he says, only users' "public" data can be used by Bing.
The two companies' partnership on social search makes sense. Microsoft and Facebook are both lined up as enemies against Google–Microsoft in search and numerous other other web services, Facebook in the realm of social services. Facebook is increasingly becoming people's entry point to the web, a role Google's search engine has traditionally held. This fact is causing concern at Google, and driving much of the new innovation happening there. See Google Buzz.