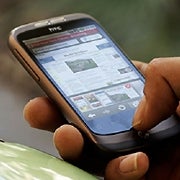 Opera has announced a full-fledged Opera Mobile browser for smartphones running the Google Android OS. Opera Mobile for Android, which is slated to arrived within a month, will feature hardware acceleration and pinch-to-zoom functionality.
So far the company offered only Opera Mini for Android, a scaled-down version of its browser, designed for less capable phones. Instead of translating and compressing pages through a server before reaching the user, Opera says Opera Mobile for Android will be a full-fledged browser, on the par with Android's built-in browser or Safari on iOS.
Opera claims hardware acceleration will give a major speed boost to Opera Mobile for Android, alongside some user interface improvements. One feature leveraged by hardware acceleration will be pinch-to-zoom, so that you can adjust the zoom level to your liking, instead of relying on the two preset levels of zoom on Opera Mini.
It's unknown how fast Opera Mobile for Android will be in comparison to Opera Mini. The latter compresses website data by up to 90 percent before pushing content to your smartphone, so you get fast loading times even on slow network connections. This has a disadvantage, as fonts and some website layouts do not display correctly on your phone – which is what Opera Mobile plans to address.
Opera Mobile for Android won't be the only third-party browser on the platform. Mozilla previewed earlier this year the Android version of Firefox called Fennec, which is still in its early stages. If you're not happy with the built-in browser on your Android phone, you can wait for Opera Mobile or Fennec, or you can take the Dolphin Browser, a cool browser with pinch-to-zoom and gesture commands, for a spin.