Facebook has landed in the Skype desktop application for Windows, confirming rumors that had been floating around. The latest version of Skype for Windows PCs went public on Wednesday with some important new features such as group video calling, automatic call recovery and Facebook integration. Rumors that Skype and Facebook were working together emerged in late September after All Things D obtained a screenshot of the new Skype software.
Skype in Facebook is obviously a big win for both companies. U.S. users spent more than 40 million minutes in August on the social network, according to data from comScore. Skype users worldwide spend an average of 520 million minutes every day using the online voice and video chat service, according to Rick Osterloh, Skype's head of consumer products.
Here's look at some of the highlights from Skype 5.0.
Facebook Integration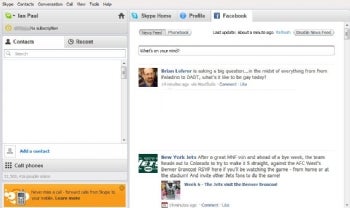 In Skype's new desktop application for Windows, Facebook has its own tab along with tabs for your Skype profile information and a Skype home tab that displays tutorial information about Skype.
To get started, click on the Facebook tab and sign in with your Facebook user name and password. After signing in, you'll be greeted with a switchable view for your newsfeed or your Facebook phonebook that includes contact information for any of your Facebook friends who have made their phone numbers available. You can call or send an SMS to any of your friends by clicking on their number in the phonebook. Skype will also include call and SMS links in your newsfeed for any of your friend's phone numbers you can access. Before you press that call button, keep in mind that voice calls to landlines, mobile devices and SMS messages on Skype are not free.

The newsfeed in Skype includes a text-entry box to update your Facebook status. You can also make your Facebook status update your Skype mood status or vice versa. Your Facebook newsfeed in Skype will only let you add text updates or links; advanced features such as attaching video links with a screenshot, posting photos, videos or creating events from the status update bar are not present.
In my tests, it appeared that Skype only has limited access to your newsfeed that primarily includes activity from Facebook Pages you follow and your friends' status updates. Other notifications such as photo comments or your friends' recent "likes" didn't show up. Clicking "Older posts" at the bottom of the newsfeed in Skype will launch your browser and send you to Facebook's website.
Group video chat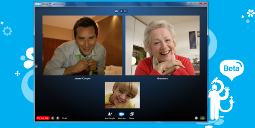 Skype 5.0 for Windows includes a beta release of its group video chat feature that allows you to chat with up to nine other people at once. However, Skype recommends you keep most group video chats to five people or less depending on your bandwidth. You can start a video call by clicking on Contacts>Create New Group and then drag your contacts into the Group space in the right pane of the Skype window. To add more people to an ongoing video call click on the "Add people" link in the bottom of the chat window. Skype group video chat will be free to all users until November 11. Group video chat requires that all users are running Skype 5.0 for Windows.
Automatic call recovery
If you've used Skype for a while, then you are probably familiar with the annoying habit Skype has of dropping calls that go on past 15 minutes or so. To improve call dependability Skype 5.0 will automatically try to reconnect your call if it drops. The application will also offer you tips and advice to help you diagnose the problem and avoid dropped calls in the future. Skype has also added some other tweaks, including an improved full screen video chat to accommodate all those extra people you'll be seeing during group video chat.
Skype 5.0 for Windows has some great new features, but one thing missing is any mention of Skype video chat coming to Facebook.com. It's not clear if that would ever happen, but it would certainly be an added bonus for the social network's 500 million users.
You can download Skype 5.0 for Windows by clicking here.
Connect with Ian Paul ( @ianpaul ) and Today@PCWorld on Twitter for the latest tech news and analysis.