Apple's new anti-"sexting" patent was approved this week and despite the uproar, it may make perfect sense for businesses scared of sexual harassment lawsuits or just wanting to keep a closer eye on employee shenanigans.
While "sexting" isn't mentioned once in the patent, the technology appears to enable users to control the content of text-based messages, so that parents — or employers — could exclude or replace "forbidden" content. Presumably the administrator could select verboten words or product names, which would be flagged or replaced when they appear on a user's handset.
This could be helpful, say, when your company is getting ready to release a product that's in a hush-hush beta phase. In essence, you could potentially spy on employees to see if they're spying for someone else.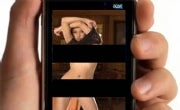 If the prospect of spying on employees is unappealing, then at least the Apple iOS makes it more difficult for adult-oriented applications to appear on anyone's phone. Apple has been labeled prudish for its exclusion of images of half-naked women but, after all, most companies really don't need that kind of aggravation, especially when they can cause sexual harassment and hostile work environment lawsuits.
While some business owners may dislike the idea of censorship — in this case it may seem as if citizens are giving over their right to free speech for a cool gadget — most employees are aware that all actions, digital or otherwise, can reflect upon themselves and their company. And those who don't may get fired for posting inappropriate photos or trashing their workplace on Facebook.
Apple iOS usage has been growing steadily in the business sector. It's not a surprise that Apple's new patent would potentially allow employers to monitor their employees' activities and discourage adult content.
Perhaps Apple's original idea was for "helicopter" parents to watch their child's every move — and possibly make them think iPhones are the safest smartphones out there for minors — but the patent also works for business.
Other smartphone platforms — especially the chief rival Android — have put few restrictions on content in their apps markets, and have no such controls over sexually-explicit texts. While applications already exist that can filter out adult-oriented content for both the iOS and Android, Apple is making a bold move.
Although the patented technology in action wouldn't stop all office stupidity or adult content — there's still Apple's video chat FaceTime after all — at least it could potentially give company owners a little peace of mind. Apple's new patent idea, extended to business, may not be great for every company — but for those working on sensitive projects, censoring texts may seem good and perhaps necessary.
I would put my money on teens getting around the censorship faster than adult employees, but even if they did, it would at least be an extra hurdle for those determined few.
Reach or follow Barbara E. Hernandez on Twitter: @bhern.