At long last, Verizon Wireless and Apple are really, truly teaming up. And while it's not (yet) a deal to sell a Verizon-compatible iPhone, it's a noteworthy day, as the companies have announced that Verizon will begin selling the iPad later this month. This must mean that Verizon really is going to offer the iPhone after all — and soon, right? Maybe. But I wouldn't uncork that champagne just yet, because upon close inspection, the Verizon iPad announcement offers little to get excited about.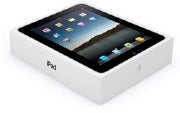 According to Apple and Verizon, the iPad will be available in Verizon Wireless stores beginning on October 28. But don't expect to pick up an iPad that will automatically connect to Verizon's 3G network: all of the iPad models that Verizon will sell will be Wi-Fi-only.
Instead of 3G connectivity, the Verizon iPads will comes with a MiFi 2200, a small gadget that lets you create your own wireless hotspot, wherever you have access to Verizon's 3G network. The MiFi 2200 is a pretty cool gadget on its own; it's about the size of thick credit card, and, when it's turned on in range of the 3G network, it creates a wireless hotspot to which you can connect as many as 5 devices.
Getting a MiFi with your iPad is a definite bonus — although it's one you'll pay for. Verizon is charging the same price for the iPad and MiFi bundle that AT&T is charging for the iPads that come with built-in 3G connectivity; the16GB iPad will cost you $629, the 32GB model will cost $729, and the 64GB will cost you $829. (Verizon also will be selling iPads without the MiFi, with the models costing $499, $599, and $699, respectively.)
On top of paying for the iPad and the MiFi, you'll also have to pay for the data service. Verizon's announcement makes no mention of a service contract, so, presumably, you won't have to make any sort of a commitment. But you will have to pay $20 a month for a plan that offers 1GB of data.
So far, so good, right? Maybe. Here's what has me concerned:
Let's start with the obvious: selling the iPad with a MiFi (another device you have to carry, keep track of, and keep charged) is a cop-out. Why not sell an iPad with a CDMA chip built in, so it can connect to Verizon's 3G network directly? Maybe Apple is waiting for Verizon's 4G network to be ready, but isn't that already in the works? Or maybe AT&T has an exclusive deal on the iPad that doesn't allow it. But why would Apple negotiate that deal in the first place? After all, when the iPad launched, it was no secret that Apple and AT&T did not have a perfect marriage — at least not in the eyes of most iPhone users.
And, about that iPhone. Many people have said that today's agreement between Apple and Verizon proves that the companies are working together, which must mean that the long-rumored, almost certain Verizon iPhone is a done deal. But if it's so hard to build an iPad with a CDMA chip inside, what does that mean about the iPhone?
Pshaw, you say. The iPhone is coming to Verizon, and soon. There's no reason to doubt it, right? Definitely. Maybe. I think.