Even the biggest companies can suffer outages, and Internet access is not always available. These factors cast a dark shadow of doubt over anyone who has potentially vital information stored in "the cloud" as opposed to their own system. Gmail is one of the most commonly used mail systems, but just about anyone who uses it for non-trivial purposes has to wonder "What if it goes down?" or even "What if I just can't connect to the net?" Gmail Keeper ($30, free demo with limitations) offers one solution: regular downloads of your Google mail, storing it in .zip files on your local disk.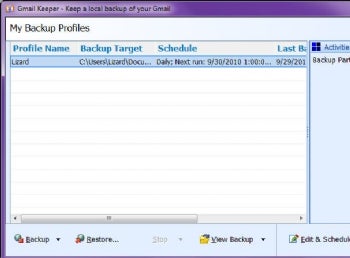 Gmail Keeper isn't an e-mail program in itself; all it does is download your Gmail according to your specifications. You can filter by date, mailbox, and/or label–perhaps you want to back up only messages labeled "Work," or only messages from the last three months. You can create multiple profiles to enable you to back up different Gmail accounts, or to do a "big backup" once a month but an "important mail" backup daily. (The demo version supports only one profile and will save a maximum of 300 messages.)
It is possible to accomplish this with any locally installed POP mailer, such as Microsoft Outlook or Mozilla Thunderbird. However, Gmail Keeper offers a few useful features that can make it a viable alternative if you do not want to send or read your Gmail locally. It's small and compact–you don't need an entire e-mail program if all you want to do is download and archive messages from Gmail. It stores the files in .zip format, so they take up little space. (Each individual message is in .eml format, which can be opened by most e-mail programs or any text editor) The zip file can be password protected as well. The ability to mix scheduled backups and profiles filtered by date, label, and so on is also a plus compared to simply getting the data via POP and then sorting it yourself.
Gmail Keeper also allows you to restore your backed up mail–including migrating it to a new account/profile. This is a very nice feature that can be useful if you need to move mail en masse from one account to another, or if you lost all or some of your mail due to careless deletion or being hacked.
On the negative side, Gmail Keeper has some oddities. Even though my mailbox reports that it contains "only" 1700 or so megabytes, doing a full download caused Gmail Keeper to complain I might violate the 4 gigabyte limit for zip files. More likely, the error was due to the ZIP format's limit of 64K items in a single zip, a limitation which GMail Keeper documents. Also, the price is somewhat on the high end for a one-trick pony, even if it does the trick very well, when there are some cheap mules (a POP mailer, or Google's "offline access") that can provide a decent subset of the functionality.
If you don't have or want to have a POP mailer, and/or if you need or want the filtering and restoration functions, Gmail Keeper is worth checking out. Road warriors, in particular, might find having access to all their mail even when they can't connect to the Internet to be well worth it.