Knowing what your favorite celebrity is up to at any given moment will get easier next Tuesday when JustSpotted, a near real-time celebrity stalking site launches. Created by Scoopler–makers of a now defunct real-time search engine–JustSpotted aggregates celebrity sightings from social networks such as Twitter, Facebook and Foursquare and places them all on a Google Map complete with photos and location information. Scoopler describes JustSpotted as a "social and technology driven version of TMZ" with "updates, tweets and news for every celebrity on the planet."
How it works
JustSpotted will launch with a database of 7,000 celebrities, according to The Hollywood Reporter. Fans of any of those several thousand celebs can then sign up to receive regular updates via e-mail or sent to their mobile devices. Users will also be able to upload celebrity sightings directly to the site, but it's not clear how that will work. Scoopler also says celebrities will have the option to "claim their news feeds" giving them direct access to a targeted base of fans.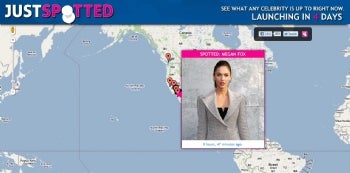 Privacy nightmare?
If this set-up sounds familiar that's because Gawker launched a similar feature in 2006 called Gawker Stalker Maps. Gawker didn't aggregate data from Twitter or Facebook, but relied solely on user submissions. Shortly after the Stalker Map launched, Hollywood publicist Stan Rosenfield–who has worked with many A-list celebrities such as George Clooney, Helen Mirren, and Robert DeNiro–called the site "a dangerous thing," according to the Associated Press. Ultimately, the Gawker map was short-lived; the site has since reverted to a simple list of celebrity sightings without the accompanying map.
It's not clear if JustSpotted will fare much better than Gawker as the new site is sure to outrage celebrities, not to mention their lawyers, if it becomes popular. In fact, the site's problems may have started already. JustSpotted recently lost special access to Twitter's data firehose. Twitter cut the site off because it had originally licensed firehose access to the Scoopler real-time search engine and not JustSpotted, according to TechCrunch. JustSpotted will, however, continue to use Twitter's publicly available application programming interface (API) to access celeb-related tweets.
Some may be concerned that JustSpotted can put a celebrity's safety at risk by publicly broadcasting their location. JustSpotted co-founder AJ Asver told The Hollywood Reporter the site is not "real-time enough" for users to dash madly around New York or Hollywood to gawk at celebrities. I guess we'll have to wait until next Tuesday before putting Asver's claim to the test.
Connect with Ian Paul (@ianpaul) and Today@PCWorld on Twitter for the latest tech news and analysis.