A Verizon MiFi bundled with an Apple iPad could save you big money on data plans, but if you already have an iPad or a MiFi, you're out of luck. Verizon will start selling the popular Apple iPad at its stores on October 28, and since there is no CDMA iPad so far, Verizon will also sell its MiFi mobile hotspots alongside the WiFi-only iPad, with some pros and cons.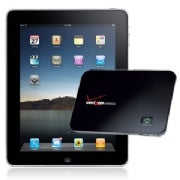 Verizon MiFi device, which offers 3G data access to up to five WiFi devices, can be purchased with a 5GB traffic plan for $60 per month. If you buy an iPad and MiFi bundle from Verizon, though, you will pay $10 less for the same service, which is priced at $50 per month. Also, it doesn't require a two-year commitment (same with AT&T's iPad 3G plans); just a rolling monthly service, with no termination fees.
It sounds great, right? Heavy data users will pay less per month if they use a MiFi with their iPad. Well, not so fast. According to Verizon's set of frequently asked questions (FAQ) on the deal, if you already have an iPad or a MiFi, you're not eligible for the reduced data traffic rate. Of course, you can still use an iPad with the MiFi (like you could by now), but data charges won't be less than before.
In Video: Apple's iPad Coming to Verizon
The Verizon FAQ states "customers will only be eligible for the new data plans when purchasing the iPad and the MiFi 2200 promotional bundle." The bundle, however, is cheaper than buying a WiFi iPad and a contract-free MiFi (typically $299). The Verizon iPad-MiFi bundle will cost you the same as buying a 3G iPad, namely $630 for the 16GB model, $730 for 32GB, or $830 for 64GB. On the downside, the WiFi-only iPad doesn't come with the GPS chip inside (bundled only with the 3G model).
For heavy data users, who need two or more GB of data per month with their iPad, Verizon's deal comes out cheaper per GB — unless you already have an iPad or a MiFi. AT&T charges $25 for 2GB ($12.50 per GB), while Verizon's deal comes in at $10 per GB. If you go over your 5GB data allowance on the Verizon iPad+MiFi bundle, the charge is $10 per GB, which is cheaper than on the lower-end plan, which is $20 per GB.
Follow Daniel Ionescu and Today @ PCWorld on Twitter.