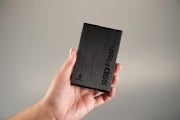 Iomega is the latest company to support USB 3.0 in an external solid state drive, even if chip makers aren't there yet.
The plainly-named Iomega USB 3.0 External SSD Flash Drive arrives in early November, at prices you'd expect for solid state: $229 for 64 GB, $399 for 128 GB and $749 for 256 GB. Iomega says the drive is two times faster than USB 3.0 hard drives, and ten times faster than USB 2.0, with transfer speeds of up to 5 gigabits per second.
But taking advantage of these high speeds isn't automatic. Most computers on the market don't offer native USB 3.0, because chip makers don't support the standard in their chipsets. AMD is rumored to bring USB 3.0 to its upcoming Hudson chipset, but Intel may not follow until 2012. Intel is building its own high-speed transfer technology, called Light Peak, which it views as a successor to USB 3.0.
As it stands, notebook and desktop computer manufacturers must build USB 3.0 into their motherboards. A couple of recent Asus netbooks do this, as do the Asus N82 and N61. Dell's Precision M6500 and HP's Envy 15 offer USB 3.0 in certain configurations.
Without support on the motherboard, users will have to install an Express card to handle the faster data transfers. Iomega sells these for notebooks and desktops.
What's the real-world payoff for all this hassle? According to OCZ, whose Enyo solid state drive also supports USB 3.0, a 256 GB backup that would take 2.4 hours with USB 2.0 takes 12 minutes with the new standard.