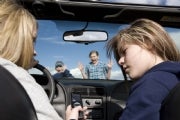 Remember that old stereotype of the chatty teenager, gabbing at a million miles per hour and hogging the household landline? File that under outdated because phones aren't really phones anymore — they're SMS vessels, and no one wears out the QWERTY more than teens.
According to recent Nielsen data, teenagers send and receive an average of 3,339 text messages per month. That's six messages per waking hour. It's almost surprising that Nielsen didn't take into consideration the number of texts sent while sleeping…
These numbers are more than double the quantity that the Pew Internet and American Life Project reported earlier this year, which showed that half of all American teenagers send 50 or more text messages a day, or about 1,500 texts a month.
There's a startling gender disparity too: teen females send 4,050 texts per month, while teen males tap out only 2,539. With these kinds of figures, you'd half-expect American teens to be doing nothing but texting, replacing laughably archaic activities such as talking face-to-face with heads-down thumbs-blazing behavior.
This trend would also seem to indicate that teens are texting in inappropriate situations, like behind the wheel. That's only partially right: Pew's research also found that adults are substantially more likely to text while driving than teenagers. So before parents start punishing their kids for recklessness, they ought to dock their own phones.
These findings should come across as "Like, no duh." Texting has surpassed talking for a while. The same Nielsen report found that voice activity decreased 14 percent over the year previous, to about 11 hours of chatter per month.
Maybe cellular providers will eventually introduce text-only plans. And maybe this reliance on SMS will deteriorate teenage vocal cords to the point that they'll need machines to talk for them.