Remember the very first time you turned on your laptop? It ran at the top of its game. The boot time could be counted in seconds, not minutes, and Windows was up and running moments after you entered your password. Now it's months (or possibly years) later, and things aren't so peachy anymore. Applications take minutes to load, and you cringe every time you have to open a file. How do you restore your laptop to its former athletic self?
1. Uninstall the stuff you don't need. It seems like common sense, yet so many users allow unwanted or unneeded programs to fester on their system, and the result is a laptop that gets progressively slower and more clunky. To uninstall an unneeded application, click on the Start menu, then Control Panel, and select Uninstall a Program. Scroll down the list of installed apps, select the program you want to remove, then click Uninstall.
2. Defrag your hard drive. A fragmented hard drive has files scattered all over the place. Think of those files as items you use regularly in your daily life. Now imagine that those items are scattered over a large area so that it becomes a scavenger hunt every time you need something. That's a waste of time, right? So is a fragmented hard drive, and it will make Windows run slowly. To defrag your hard drive, click Start and type Disk Defragmenter into the search bar, then press Enter. Click on the (C:) drive, then click the Defragment Disk button.
3. Clean up your unneeded files. Hundreds of files exist on your computer that you may not know exist, and they hide in many places. Windows has a utility called Disk Cleanup that will remove these files, both freeing up space and reducing system lag. To run Disk Cleanup, click on Start and type Disk Cleanup into the search field, then press Enter on your keyboard. Select the (C:) drive from the Disk Cleanup menu that appears, then click OK. Select the checkbox next to each group of files you want to 'clean up,' which is a polite way of saying 'delete.' When ready, click OK, then click Delete in the warning box to confirm the action.
4. Remove any system infections. You may run anti-virus software and a firewall, but that doesn't mean your laptop is infection-free. Fire up your security software, or download an anti-virus application (check out our Top 10 Internet Security Suites [https://www.pcworld.com/reviews/collection/3247/2010_suites.html] list for options). Update the software so that it has the latest infection definitions (updates can usually be downloaded by clicking Help, then Update), then perform a full system scan. Delete any infections the application finds, then reboot your laptop.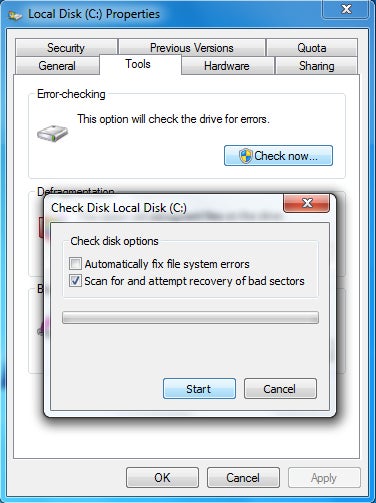 5. Repair bad hard drive sectors. A hard drive is composed of many sectors, which are small units of storage space on the drive. Some of these sectors will go bad during the lifespan of the hard drive. When that happens, Windows will still attempt to write data to those sectors, which it ultimately cannot do. This will cause a delay while Windows figures out where to save your data, making your system run slower.
To find out if your laptop is running slow due to bad hard drive sectors, click on Start, then on Computer. Right-click on your hard drive (the (C:) drive, for example) and choose Properties. Select the Tools tab, then click Check Now. A dialog box will appear with two scan options: 'automatically fix file system errors' and 'Scan for and attempt recovery of bad sectors'. Click the checkbox next to the second option, then press the Scan button.
Consider replacing your hard drive if bad sectors are found but cannot be repaired; oftentimes, numerous bad sectors are an indication of imminent disk failure, which could result in a total loss of data.