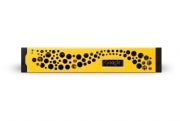 Google's business search box will sift through data in the cloud and behind company firewalls with the Monday release of Google Search Appliance 6.8.
Google aims with its new Cloud Connect features to help workers find content in one step with universal search, a growing demand as move sensitive content moves to the cloud.
The bright yellow box lets you customize Google search for Websites and internally across 220 file types as well as intranets, apps, content management systems, databases, real-time data, and portals.
"We want the search appliance to become the hub to bring all this information in," said Rajat Mukherjee, Google's product manager for Enterprise Search. "Search is becoming the de-facto navigation even for enterprises."
Now users can search their personal Google Apps domain–including cloud-stored e-mail, word processing, spreadsheets, and presentations–as well as Microsoft Office and other documents within their network. Three million businesses use Google Apps, which has 30 million consumers and gets 3,000 new signups a day.
Google Enterprise Search also will retrieve documents that users track from the public Web, such as the blogs a company publishes or follows. And the product connects with Microsoft Sharepoint 2010's collaboration platform and the Lightweight Directory Access Protocol (LDAP). Last year Google added Twitter results to the search hardware, which has been around since 2002.
Users can get results in XML and customize the interfaces of search results. A company can configure what appears in People Search results to trigger actions, like opening an e-mail client or Google Voice when a user clicks on a co-worker's address or phone number.
Search can span multiple appliances–which each can look through 30 million documents. A global corporation could set up one box in the United States with another in England, and reach results from both locations in one place.There are some out of the box templates for search results on mobile devices.
In addition, new Dynamic Navigation enables users to filter search results. A bookstore scouring inventory, for example, would be able to fine-tune the metadata that appears, such as book prices and publication dates. Or, you could look up your company's customer support tickets, with results organized by priority, severity, and product version.
Google says it's beefing up security by offering fast, secure searches with enhanced caching, so it can quickly verify if a user has the credentials to peer inside a protected document.
The 35,000 customers of the search appliance can find the updates today at this Google Website. Companies that buy the box–new for $15,000 a year for a two to three-year license and up–will get the latest features baked in.
The less expensive Google Mini search box, which can look through 300,000 documents, remains the same.
Follow Elsa Wenzel and TechAudit on Twitter.