If you line up an iPhone 4, Droid X, and BlackBerry Torch next to each other, and zoom in so you only see the display alone, the similarities between the platforms seems to outweigh the differences. Windows Phone 7, however, breaks the mold on the sea of app icons, and provides an innovative means of interacting with the information and functionality of the smartphone through tiles and hubs.
The distinction is more than just aesthetic. It is refreshing to have a different visual approach for a smartphone interface, but the tiles and hubs of the Windows Phone 7 interface provide a different smartphone experience.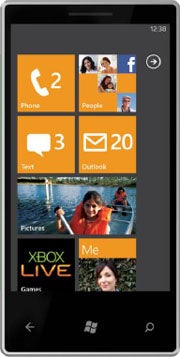 Microsoft attempts to say as much in its commercials for Windows Phone 7. The commercials are clever and appealing–not something one can normally say about a Microsoft marketing campaign. But, at the same time a tad confusing. The "people are too tied to smartphones to pay attention to the world, here–try our smartphone" concept is a tad subtle and may shoot the nascent platform in the foot.
If you stop and look at the Windows Phone 7 approach, though, the commercials start to make more sense. Microsoft is slamming the traditional approach of wading through multiple pages of icons to find specific apps, and trumpeting the hubs concept used in Windows Phone 7 as the alternative that fundamentally alters the smartphone experience.
So, what's the big deal? I can look at my iPhone 4 and instantly see a little red bubble with a number indicating missed calls or voicemails, number of new e-mails, number of new text messages. I also have little red bubbles with numbers displaying the number of outstanding updates or messages I have in LinkedIn, Facebook, or Skype. In that regard, iOS is already delivering similar "at-a-glance" info as the tiles concept in Windows Phone 7.
The tiles in Microsoft Windows Phone 7 aren't simply numbers in a red bubble, though. You can configure them for instant access to the features and functions that are important to you. The Windows Phone 7 Help and How-To page explains, "You can pin just about anything you want to Start: apps, pictures, songs, map locations, favorite websites, OneNote notes, and even contacts. When you pin a contact to Start, you'll get all of that person's feed updates right from that tile, and it's like speed dial: it takes only two taps to make a phone call."
In Video: Windows Phone 7 Impresses on the Samsung Focus and HTC Surround
The hubs approach seems more innovative, and valuable–and a more seamless approach to delivering functionality that Apple is tacking on after the fact. Grouping like apps based on the general category of use greatly simplifies navigation and makes it much more intuitive to find what you're looking for. Prior to iOS 4.0, I used to accomplish something similar by simply creating separate pages of apps–a utilities page, a productivity page, a games page, etc. With iOS 4.0 Apple introduced folders which let users manually create something similar to the hubs concept by combining like apps into categorized folders.
Windows Phone 7 has its share of issues as well–at least in the initial launch. But, the tiles and hubs concepts do fundamentally break the mold on the smartphone experience–putting the focus on what you can accomplish with the smartphone, rather than on the device itself.