Turtle Beach used to be a name invoked when you wanted something higher spec than Creative's older, generic Sound Blaster audio cards. What you lost in native game support, you gained in ahead-of-the-curve audio engineering, and the cards themselves sounded less like geek tech than tropical respites, with names like Maui, Montego, Rio, Riviera, and Santa Cruz (contrast with Creative's comparably dull Pro, Pro 2, Awe32, Awe64, Audigy, and X-Fi).
The company still sells a handful of sound cards–a couple Dolby Digital PCI cards and two USB dongles for mobile devices–but they're probably best known these days for their Ear Force audio headsets.
Last year Turtle Beach sent me an Ear Force Z1, which though my wife called it the most comfortable headset she'd used to make international Skype calls, sadly developed an audio short in the flex housing near the volume controls, causing the sound to cut in and out when you wiggled it. By the time I'd gotten round to requesting a review replacement, I was traveling back across the pond after an extended sojourn in the UK and I was on to other kit.
Enter the Ear Force PX 21, a newer, visibly chunkier stereo amplified headset I've had wrapped around my head the past few weeks. An update to last year's PS3-angled P21, Turtle Beach markets the PX 21 agnostically to PlayStation 3, Xbox 360, and PC/Mac gamers and sells it for $79.95 (same as the less well-rounded P21). Its raison d'etre? To be a stereo USB headset for chatting and an amplified headset for gaming, all controlled from a single box attached to the cable that lets you fiddle chat and game volume using discrete volume dials and LEDs.
Cable Doubles as Lasso
Do you sit directly in front of your video screen or somewhere back across the room? Turtle Beach isn't taking chances. The PX 21 comes with a high quality (read: thick) 16-foot non-detachable connector cable that could almost double as an escape cord, say you ever have to climb out a two-story building. The extra length should do nicely if you need it, but looks clumsy if you're gaming in close quarters, as I tend to (in a glider chair about four feet from a 26-inch LED TV). Put it this way: A bird's nest has less going on than a 16-foot cable tangled up.
The cable terminates in split-out USB and 3.5 millimeter audio ends, and a separate adapter cable lets you employ both simultaneously for discrete connections to your game system and a separate sound system, say you want to change up audio output without unplugging anything. Turtle Beach includes a Velcro strap to manage the cable's length, and you'll just want to make sure you're wrapping it well down so it's not weighting down the headset.
Amplification Station
The PX 21's integrated stereo amplifier sits about three feet down the cable from the headpiece and includes mic mute and stereo expander switches, bass, chat, and game volume dials, an Xbox LIVE jack to run mic output to an Xbox controller, and mic mute and "Chat Boost" LEDs (you'll need the USB cable plugged into something to power the expander–no battery options here, which is probably for the best given weight concerns).
The LEDs are terrific for quick visual reference, the Chat Boost feature really does keep the chat channel audible during loud gaming sequences, and bass boost adds plenty of eardrum-pummeling oomph to games with low-frequency effects. That said, you'll want to dial it back much of the time, since it tends to distort if you crank it (and you'll need to disable it entirely if you pair the PX 21 with Turtle Beach's 5.1/7.1 surround processor, the Ear Force DSS).
The only downside, having these many switches in close proximity to a moving body, is that it's easy to accidentally trip one unintentionally, or accidentally zero out "game" when you meant to thumb down "chat." A somewhat delicate plastic "belt" clip on the amplifier's back helps secure it out of the way–if you can find something that's away from your body, say part of the chair you're sitting in, to clip it to.
Next: The stereo expander, over the ears, and mic monitoring…
Follow us on Twitter (@game_on)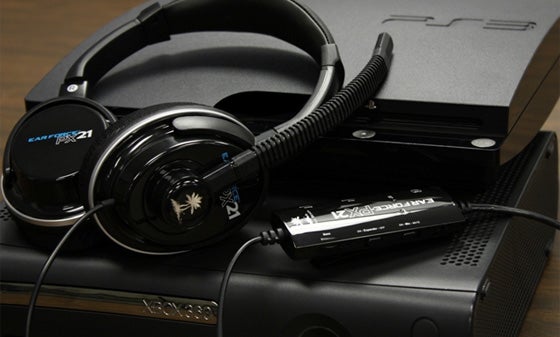 Enabling the expander does nothing discernible for chat-related sounds, but opens up the stereo field if you're processing game-channel audio. It essentially makes "left" and "right" panned sounds more definitively so, pulling them out of the middle. It helps you detect subtler sound cues that might otherwise get lost or washed in midfield. While it's hardly surround sound, it does secure a kind of high-end budget middle area between an entry-level $40-$50 generic stereo headset, and something pro-tailored, like the wireless 7.1 surround Ear Force X41, which lists for $199.95.
Over the Ears
Where the Z1's earpieces were round circles, about two inches in diameter, that pressed against your ears with basic foam padding, the PX 21 cups around them with oversized fabric-mesh cushions. The oval-shaped padding is half an inch thick and perfectly comfortable for extended play sessions, though if you have larger ears like mine, they won't fit as snugly within the recessed area to seal out external sounds as they do in something like the larger, more amply padded Astro Gaming A40. When you slide the headset off your ears and around your neck, the earpieces fold in and rest comfortably mesh-side down on your collarbone.
Do you wear glasses? The PX 21 probably isn't for you, though that's sadly true of most headsets. The PX 21 falls in the "narrow" crosspiece (over the head) camp, where the tension's just enough to irritate the skin and bone behind your ears after more than an hour or so of continuous use (the tension causes the temple arms of my metal-frame glasses to press uncomfortably against my head).
Monitor This
The microphone arm descends from the left earpiece like one of those bendable drinking straws but without the annoying clicking sounds when you're repositioning it. Optional mic monitoring feeds whatever you're saying back through the earpieces, a feature that ostensibly helps you better gauge the ebb and flow of a conversation as well as how you sound in the channel. While the audio quality is exceptional, with zero lag, the usual caveats apply. You have to keep the mic fairly close to your lips (within just a few inches) to get good monitoring, but this in turn leads to jarring pops and crackles when using words with sibilant consonants.
High-End Budget? Or Low-End Pro?
Take your pick, it's pretty much where you're standing. If you want something higher-grade than the blizzard of mediocre headsets in the $40-$50 tier but aren't ready (yet) to pay those $150-$200 graduation fees for true 5.1/7.1 sound, the PX 21 should do nicely. If you want to update to 5.1/7.1 down the road but don't want to buy a new headset, you can pair the PX 21 with the Ear Force DSS for $89.95 and spend considerably less than the X41 (though you'll give up wireless and slightly larger speaker size).
PCW Score: 4 out of 5 stars
Follow us on Twitter (@game_on)