Store it, network it, power it, record it, and project it with our selections in this category, which includes the best in solid-state drives, network-attached storage, and other hardware.
Crucial RealSSD C300
Solid-state drive; $600 Crucial's C300 is the first SSD we've tested to support 6-gigabits-per-second SATA, which enables faster write speeds because it can push more data through the pipe. This 256GB internal drive delivered top-flight overall performance and the best write performance. (#16 in the PCWorld 100)
Crucial RealSSD C300 coverage | micron.com
Livescribe Echo Smartpen
Input device; $170 for 4GB, $200 for 8GB This slim second-generation smart pen ties audio recordings to your handwritten notes, and you can listen to them by tapping your words with the pen tip. A repositioned USB port allows it to function as an input device when connected to a computer. (#40)
Livescribe Echo Smartpen review | livescribe.com
Western Digital 3TB My Book Essential
Hard drive; $250 If you need tons of space to store your stuff on a single drive, WD's 3TB My Book is for you. This four-platter USB 3.0 hard drive boasts speedy performance and blasts past previous capacity limits. (#42)
Western Digital 3TB My Book Essential coverage | wdc.com
Clickfree Network CN2
Backup device; $140 for 500GB Clickfree's automated, simple-to-use software for this drive permits easy backups of multiple PCs connected on a network. (#43)
Clickfree Network CN2 coverage | clickfree.com
Seagate Momentus XT
Hard drive; $120 for 500GB This 7200-rpm, 2.5-inch internal laptop hard drive packs 4GB of flash memory, an addition that helped propel this model far ahead of standard hard drives in performance. (#52)
Seagate Momentus XT review | seagate.com
Cisco M20 Valet Plus
Wireless router; $130 This speedy, full-featured wireless router doesn't force you to wade through endless menus to configure it. Other routers may be cheaper, but the Valet Plus is idiot-proof. (#53)
Cisco M20 Valet Plus review | cisco.com
Innergie mCube Mini
Power adapter; $70 Skip the power brick–if you travel with a laptop that has modest power requirements, this tiny auto/air adapter is for you. It's extremely lightweight, and barely bigger than two thumbs. It powers any laptop requiring up to 65 watts at 15 to 21 volts. (#55)
myinnergie.com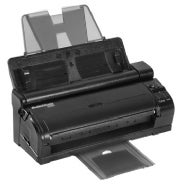 iVina BulletScan S300
Scanner; $299 Portability, versatility, and performance are the highlights of this two-in-one, 600-dpi duplex scanner. Leave the detachable, 20-page automatic document feeder behind, and take just the USB-powered mobile scan module on the road to input forms, receipts, photos, business cards, and more. Automatic one-step scanning and uploading to Google Docs and other cloud-based services are bonuses. (#59)
Smartfish ErgoMotion Mouse
Input device; $50 This unique mouse rests on a pivot, so its position adjusts to match your motions. The result is surprisingly comfortable mousing. (#61)
Qnap TS-259 Pro Turbo NAS
Storage device; $600 This Intel Atom-powered, two-bay network-attached storage box impressed us with startlingly fast speed. The drive packs tons of business-oriented features (iSCSI, MPIO), and media-friendly software–as well as QMobile, an iPhone app for remote access. (#69)
Qnap TS-259 Pro Turbo NAS review | qnap.com
Iomega eGo SuperSpeed USB 3.0
Hard drive; $140 for 1TB This pocketable hard drive boasts a USB 3.0 connection and speedy performance. It also includes Iomega's useful software suite, 256-bit AES hardware encryption, and increased drop tolerance. (#72)
Iomega eGo SuperSpeed USB 3.0 coverage | iomega.com
Dell UltraSharp U2711
LCD monitor; $1099 Whether you like to open a lot of windows or your monitor doubles as your TV, having 27 inches' worth of pixels is a nice luxury. This panel has 2560-by-1440-pixel resolution, uses In-Plane Switching technology, and has a quick response time that reduces ghosting and blur in games and movies. (#84)
Dell UltraSharp U2711 shopping information | dell.com
Belkin Conserve Insight
Energy monitor; $29 Display energy usage the way it matters: in dollars. Just plug in your devices to learn how much you'll pay to leave them connected to the juice. Or flip the strip's switch to turn everything off at once. (#89)
Belkin Conserve Smart AV coverage | belkin.com
3M MPro120
Projector; $350 One of the best pocket-size projectors we've seen, this model can handle presentations to small audiences under low light, and it can also display a 60-inch-diagonal image when you position it 6 feet from the screen. (#91)
Microsoft Arc Touch Mouse
Input device; $70 Talk about slick, portable design. You can pack this mouse flat for storage; when ready for use, it curves upward into a comfortable arch. And the touch-sensitive center strip replaces a scroll wheel. (#95)
Microsoft Arc Touch Mouse coverage | microsoft.com
TomTom XXL 550-TM
GPS; price $200 With a larger-than-average 5-inch screen, this is our pick as the year's top navigation device. The revamped interface makes it even easier to use than previous models, and the included lifetime traffic alerts and map updates ensure that you'll always have the latest maps and the best routes. (#99)
Updated 10/29/2010 to reflect correct name and price of #89.