Western Digital has blown past the 2-terabyte barrier with a new 3.5-inch hard drive that has a whopping 3 TB of storage capacity. Drives larger than 2 TB were until recently impossible to use, because older computers could not recognize drive sizes larger than 2.2 TB.
The new SATA drive is part of WD's Caviar Green line and can be used as an external storage device or as an internal disk on select systems. The drive has a suggested retail price of $239 and is available in the United States. Western Digital also announced a 2.5 TB drive for $189. Both drives come with a three-year limited warranty, and are not sold with a hard drive enclosure.
Dining on Green Caviar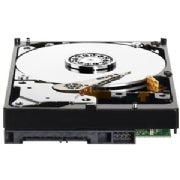 With 3 TB of storage capacity, Western Digital says you can store up to 600,000 digital photos or 750,000 MP3 song files or 360 hours of 720p or 1080i high-definition video. Western Digital's pricing means you're paying a little less than $0.08 per gigabyte on the 3 TB drive and $0.09 with the 2.5 TB model.
The new Caviar Green models have 750 GB on each drive platter (the 3 TB system has four platters). The disks rotate at 5400 rpm, have a 64MB cache and a 3-gigabit per second transfer speed. Many hard drives spin at 7200rpm or faster, but WD's lower rpm speed allows the drive to be more eco-friendly by consuming less power, hence the "Green" in Caviar Green.
The 2 TB Barrier
Older computers, typically Windows XP-era computers and older, used a partition scheme called the master boot record (MBR) that made it impossible to recognize drive sizes larger than 2.2 TB. Modern operating systems such as Windows Vista, 7 and Mac OS X Leopard and Snow Leopard use the GUID partition table (GPT) and are able to recognize the larger drive sizes.
The GPT partition scheme is part of the Unified Extensible Firmware Interface (UEFI), an industry standard designed to modernize the boot process.
Who Can Use WD's New 2.5 and 3 TB Drives
Almost any Windows or Mac computer can use WD's new Green Caviar 3 TB drive as an external hard drive, with the exception of Windows XP systems. If you have an XP system you are out of luck, as WD's new drives do not support your system. The new Caviar Green drives can also be used as an internal secondary drive for all 64-bit systems, as well as Windows Vista and Windows 7 32-bit systems.
If you want to use the new 2.5 or 3 TB drive as your primary boot disk, things get a little bit hairier. Only 64-bit systems can use the new large-size drives as their primary hard drive. That puts Mac OS X Leopard and Snow Leopard in the clear, according to WD, but Windows Vista and 7 users will have to make sure they are not using the 32-bit versions of those systems. To check whether you are running a 32-bit or 64-bit version of Windows click on Start>Computer and then right-click on Properties. Then look for the line that says "System type."
Mac users should know that WD's new drives do not support Boot Camp, therefore they cannot be used as a dual-boot hard drive.
Western Digital says some Linux systems will also support the drives. Linux users should check with their OS provider to see if your system offers support.
More Caviar Complications
Even if you have the right operating system, your computer hardware may not be running the right firmware to easily use the new 2.5 TB and 3 TB drives. Some modern computers are hybrids that use the GPT partition system, but also use legacy BIOS firmware — the first software that loads at boot time — instead of the newer UEFI standards. For those systems, WD has bundled a special Advanced Host Controller Interface Host Bus Adapter with all 2.5 TB and 3 TB drives. The HBA hooks into a PCI-Express card slot and includes driver support for the larger capacity drives.
Before attempting to install the new Caviar Green drives, Western Digital advises you to check with your motherboard or hard drive enclosure manufacturer for any special requirements your system may have for supporting larger capacity drives.
If using Western Digital's new 3 TB drives sounds like too much work, another alternative is to go with Seagate's FreeAgent GoFlex Desk external drive. Seagate's drive comes with a hard drive enclosure, and will work with systems running Windows XP, Vista, 7 and Mac OS X 10.4.9 or higher.
Connect with Ian Paul ( @ianpaul ) and Today@PCWorld on Twitter for the latest tech news and analysis.