At a Glance
Pros
Now imports and displays live Web content
Much friendlier interface
Greatly improved commenting mechanism
Cons
Interface still has some inflexibilities
No color picker
Can't play .wmv videos inside a portfolio
Adobe Acrobat is a multitalented business application. You can use it to lock down electronic documents, create press-ready color pages, or produce form-laden documents that feed data to a database. But judging from the beta I tried of Adobe Acrobat X Pro ($449 when released in fourth quarter 2010), the latest iteration will be much more Web-aware, and it will be able to bring new life to formerly staid, static electronic documents.
An Acrobat With Flexibility
PDF portfolios, introduced in the previous Acrobat version, remain the highlight of the program. It's very useful to be able to import files of many different types into a PDF portfolio–an electronic document that contains, for example, a Word document, images, PowerPoint presentations, and video files. PDF portfolios are greatly improved in Acrobat X, because you can import live Web content into a portfolio–including streaming video (for example, YouTube content)–and even log in to a Website from within Acrobat X. I couldn't get Acrobat X to import Windows Media videos, though. Adobe says that users will be able to import them when the application ships; but you'll have to either use an external application to play them, or convert them to Flash format to make them play inside Acrobat X.
Acrobat X Pro's greatly revised interface makes portfolios, and even simpler documents, much easier to assemble and to share, too. Now you'll see only File, Edit, View, Window, and Help menus across the top of the screen; that's half as many menus as in Acrobat 9, which also placed lengthy drop-downs under each one. Beneath the top-level menu, you'll see only a few additional icons (by contrast, Acrobat 9 presented nine icons below the menu bar). In their place, Acrobat X Pro adds a new control panel on the right side of the screen. Acrobat 9 did have a control panel for certain functions–such as for PDF portfolio creation–but Acrobat X Pro's version is always available, and you can collapse or expand it depending on what you're doing.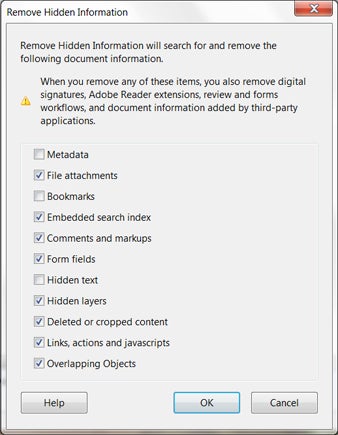 One might suspect that Adobe merely moved all of the commands from one spot to another, but the company obviously put some thought into their organization, and the addition of collapsible toolbars and some icons really helps clean things up. The result: Acrobat no longer has an interface that only a middle manager could love.
Today's Theme Is Flashy
On the other hand, the new layout has some limitations. For example, you can specify colors that you want to use in your document(s), and simply click in a palette of color bars to change colors. But it's a little difficult to figure out what will change when you click on a color. (The background? The title bar? The text?) Furthermore, Acrobat X Pro has no color picker (also known as an eyedropper). You can select from a wide assortment of hues, but you can't use a color picker to match a shade that's already in your document. You can't import a color-swatches file, either, as you can in Photoshop.
The solution, according to Adobe, is to use Flash to develop a custom theme that includes a color set. You can choose from a built-in set of five visual themes, which are listed in another collapsible right-side control panel, or you can import additional ones. You can create new themes in Adobe Flash (via a plug-in) and import them into Acrobat X Pro, but unfortunately, they won't appear in the control panel. Instead, you have to click on the 'Import Custom Theme' button in the control panel every time, and then locate the theme file on your computer.
The control panel does make it even easier to customize document backgrounds, however. In Acrobat 9 you could add a background, but you had to make adjustments in a dialog box. Now you can set a color background or use an image, adjust the opacity of the image, blur it, and apply other edits, all from the control panel, live.
Acrobat X Pro Will Take Your Comments Now

The ability of collaborators to insert comments into PDFs isn't new, but now even users of the free Acrobat X Reader can insert comments. You can also set up a PDF to track reviewers' comments by using Acrobat.com, your own internal network server, a Web server, or a Microsoft SharePoint workspace. Then you can see who has responded to your document invitation (kind of like an eVite invitation, only with much more information), get alerts from Acrobat or Windows when people make comments, filter comments by reviewer, and even export all the reviewer information to an Excel spreadsheet. And it's very convenient to have all that collaboration going on in the control panel on the right side of the screen.
If you're truly working in a collaborative environment and creating PDFs as a group–or even if you frequently process PDFs with the same commands–Acrobat X's new Action Wizard may save you time, keystrokes, and repetitive stress on your digits. The Action Wizard pane in the right-side control panel has standard action sets, including Publish Sensitive Documents, Prepare for Web Publishing, and others; they're all customizable, and you can easily create and store your own custom action sets. When you create a new action, you simply click in a list of actions in a dialog box, and then drag and drop to reorder them. However, you cannot put your most frequently used action sets in the control panel–to get at them, you must always click 'Edit Actions', scroll down to your preferred action set, and then click 'Run'. That defeats the purpose of the control panel, which should put your most-used commands within easy reach.
But what if, like me, you're often stuck with trying to pull content from already-produced PDFs? That's usually a royal pain, but improvements in Acrobat X make that common chore a little easier. For example, you can now highlight text or even a table in a PDF, choose 'Export As', and then send the content to a Word file, an Excel file, HTML, or XML. I found that this approach worked very well, with the minor exception being that the background color of a table's header row didn't accompany the table into an HTML file. That's easily fixed, however, and whereas before I often had trouble selecting the paragraphs I really wanted–especially in multicolumn layouts–I now have an easier time selecting the right text.
Other improvements: Adobe says that Acrobat X's scanning feature creates smaller files, and that the optical character recognition engine is more accurate than before. In my use, I found that it did a great job of creating searchable text within the documents I scanned. Keyboard shortcuts now work when viewing PDFs in a browser, and Protected Mode Security puts PDFs into a secure "sandbox" whenever you're looking at them online. And when you're password-protecting PDFs, you'll see a new password strength meter.
Making Acrobatic Maneuvers
Acrobat X Pro strikes me as a substantial upgrade. With Adobe software, such upgrades often involve a substantial learning curve–but in this case, Adobe has done well in making its upgrades more accessible to the nonprogrammers among us.