Palm is keeping things simple– perhaps a little too simple–for its first act under HP, with the Palm Pre 2 and WebOS 2.0.
If you were hoping for major changes in Palm's smartphone strategy, you'll be disappointed. The Pre 2 is essentially the original Pre with a few tweaks. It's the first Palm phone with a 1GHz processor, and it has a 5-megapixel camera compared to 3 megapixels in the existing Pre and Pre Plus. Palm says the new phone also has a glass screen and "slicker, streamlined design."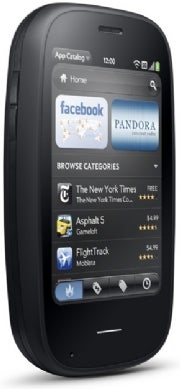 And that's about it for hardware updates. Battery life is the same mediocre 5.5 hours, storage capacity is unchanged at 16 GB with no microSD support, and screen size remains at 3.1 inches, with the same 320-by-480 resolution display as before.
The meat of Palm and HP's announcement is in WebOS 2.0, which brings a handful of notable improvements. WebOS 2.0 phones will support Adobe Flash 10.1, Skype for Verizon Wireless and QuickOffice Connect for document editing. A new kind of multitasking combines similar cards into stacks, and a feature called "Just Type" lets users perform tasks immediately by typing on the physical keyboard. When the Pre is charging on the Touchstone charging dock, an "Exhibition" mode allows apps to display information or perform special functions.
Palm's Website has the full rundown of WebOS 2.0 features, and details on the Palm Pre 2.
Verizon Wireless will sell the Pre 2 "in the coming months," according to Palm, but first, it'll launch this Friday in France with carrier SFR. Pricing was not announced. Existing Pre and Pre Plus phones will get WebOS 2.0 in the months ahead, after the Pre 2 launches.
I still have a tiny bit of optimism that Palm and HP can shake things up, but releasing a slightly modified version of an unpopular phone won't do the trick. As with before this announcement, I look forward to seeing what Palm and HP come up with next.