The other day, my wife asked me how to copy a PowerPoint presentation to a flash drive so she could take it with her to school. I was a little shocked. My very own wife doesn't know how to do this? I've failed as a husband!
To make sure I don't fail you, dear readers, allow me to explain the process of copying files to flash drives. Most of you probably know how, but I'll wager it's a mystery to at least some users.
There are two basic ways to go about this (both of which start with you plugging the drive into a USB port).
First, you can open the document in whatever program you used to create it–Word, PowerPoint, etc.–then save that document to the flash drive by way of the Save As command. Basically, you're rerouting it to the drive.
That's pretty easy, but there's a potential wrinkle: the next time you go to open the document from your Recent Documents list, the program will try to retrieve it from the flash drive (i.e. the last place it was saved)–and won't find it because it's not plugged in.
No big deal–you just have to use the Open command and go find the original wherever you initially saved it. I'm just saying it's a potential source of confusion.
The better way to go is to open Windows Explorer, find the document on your hard drive, right-click it, and choose Send To, Removable Disk (E:) (or whatever drive letter corresponds to your flash drive). Presto: the file gets copied over.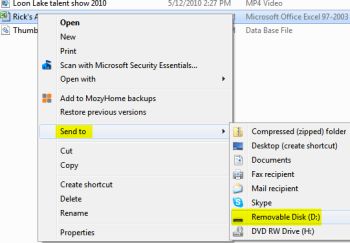 The only problem here is that not everybody knows where their documents get saved. My advice: learn. Most programs use the Documents (or My Documents) folder by default, so that's a good place to start your search.