Like most Windows users, I have a love/hate relationship with the OS's Task Manager. When it works to kill an application or a process that's slowing down my PC, I love it. But when the Task Manager doesn't work (something that happens all too often), or when it simply works too slowly, well, you know how I feel. Enter SoftwareOK's ProcessKO (free): this teeny-tiny utility lets you knock out processes simply by clicking a button. But PC newbies take note: ProcessKO is not for you.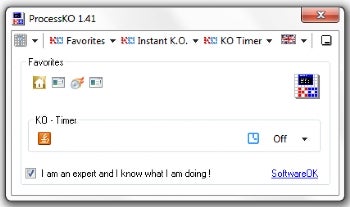 ProcessKO resides in a small (43KB) executable file that you run whenever you'd like to use it–no installation required. It offers three main options for managing your PC's processes: Favorites, Instant K.O., and KO Timer. Instant K.O. works the most like your Windows Task Manager, albeit much more quickly. Clicking on this option instantly brings up a list of all of your PC's running process; you simply scroll down the list and highlight the one you'd like to terminate. I tested ProcessKO on two systems: a Dell laptop and a Dell desktop, both of which run Windows 7. The desktop usually runs without any problems, though I do notice that my Google toolbar sometimes slows down Internet Explorer. I was able to use ProcessKO to terminate the toolbar's process–and sometimes the IE process–to prevent my PC from stalling. My laptop often has problems with iTunes, which can stall and freeze the entire PC, so I was able to use ProcessKO to terminate iTunes before the deep freeze set in.
KO Timer lets you select which processes you'd like to terminate on a schedule you set, while Favorites lets you add processes that you know you need to deal with regularly. Clicking this option brings up a list of your PC's processes, from which you can select those that you'd like to add as Favorites. Once you've designated a process as a Favorite, a small icon denoting it is added to the ProcessKO Windows. Note, though, that many of the processes (especially those pertaining to Windows' functions, as opposed to specific apps) appear with the same icon, and you can see the name of the process only by mousing over it. And, the name of the process is just what you'd see in the process list, so not only do you have to remember the difference between similar-looking process names such as sprtcmd.exe and sprtsvc.exe, you have to know which (if either) of these processes is safe to kill, if you've added both to the Favorites list.
You can kill a process simply by clicking its icon in the Favorites list, but ProcessKO doesn't offer the same kind of hand-holding that Windows does. Whereas the Windows Task manager will warn you that ending a process can result in lost data and an unstable system, ProcessKO simply makes sure you've accepted its "Expert Clause." You can't proceed until you've checked the box that says "I am an expert and I know what I am doing!" Any trouble that results, well, that's for you to deal with.
That's why PC novices should stay away from ProcessKO (and from terminating processes using Windows Task Manager in most situations, too). But PC power users will appreciate the speed and simplicity of ProcessKO, as well as the amount of control it gives them over their Windows system.