If there was any doubt about the popularity of electronic dupery, it should be put to rest with a report on global fraud released the week by the risk management consulting firm Kroll. For the first time since 2007, when the company began putting together its annual survey on crime, electronic fraud surpassed physical scams as the most common form of fraud in the world.
In the past theft of physical assets or stock topped the report's fraud charts, but this year's survey–performed by the Economist's Intelligence Unit and based on information gathered from more than 800 senior executives worldwide–showed information theft, loss or attack edging out physical fraud by a razor thin margin of 27.3 to 27.2 percent.
While that margin may be small, the year-to-year increase for information fraud isn't. Last year, information theft finished third in the fraud rankings with 18 percent of the companies in the survey reporting info scams, compared to 28 percent reporting physical fraud and 20 percent management conflict of interest frauds.
The growing trend in information fraud isn't about to abate, either, the report said. "The survey suggests that things may get worse before they get better," it noted. "Information theft or attack is the type of fraud to which respondents are most likely to describe their companies as vulnerable (37 percent)."
"Again," it continued, "their concerns are not isolated. This type of crime is regarded as the greatest weak spot for three of the 10 industries covered in the survey–Financial Services, Professional Services, and Natural Resources and the second greatest for three more–Construction, Technology, Media and Telecoms, and Retail."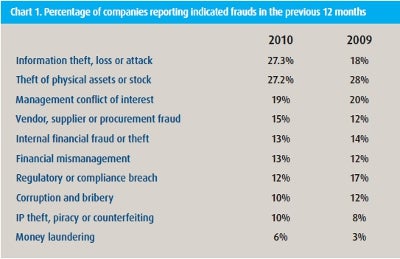 Although corruption topped the list cited by companies for avoiding expanding into foreign countries (17 percent) or investing in them (37 percent), information theft came in second, with nine percent of respondents refusing to do business in some regions because of it and 19 percent eschewing investment for fear of it.
"In most geographies information theft is the second biggest deterrent to investment, but that varies widely, from seven percent in Western Europe to 31 percent in neighboring Central and Eastern Europe," the report said.