Starbucks has ascended to the next level of its caffeinated digital domination with the launch of the Starbucks Digital Network, the coffee chain's foray into exclusive content aggregation. The digital network has gobs of high-quality partnerships, a slick iPad-friendly interface, and because the network is only available in Starbucks locations, could honestly turn into another reason to hit one up.
The digital network is broken into six categories: News, Entertainment, Wellness, Business and Careers, My Neighborhood and the customer-personalized Starbucks channel.
One glimpse and it's apparent that Starbucks flexed its corporate influence and got some of the most elite sources of news and entertainment on board.
News
The New York Times
The Wall Street Journal: the WSJ is normally behind a paywall, but is unlocked for Starbucks users. Adam Brotman, vice president of Starbucks Digital Ventures, stated that when the Times erects its own paywall, he intends on making that also freely accessible.
USA Today
GOOD: I hadn't heard of this site before now, and frankly, it's pretty awesome. One of today's headlines was about legalizing marijuana — definitely something that might appeal to the Starbucks crowd!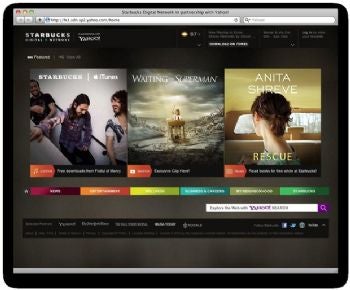 Entertainment
iTunes: Starbucks has had a longstanding relationship with Apple, most apparent in its handouts of free iTunes songs (which will still exist, but the free downloads will be accessible directly through the Starbucks Digital Network).
SnagFilms: this documentary-streaming service comes with a few selections, including "The Buena Vista Social Club" and "Kurt and Courtney." In the future, Starbucks and SnagFilms intend on creating monthly themed film festivals.
Books galore: Hachette Book Group, HarperCollins, Penguin Group and Simon & Schuster are contributing reading material through a new HTML5 reader, powered by SkyShelf from LibreDigital. This reader functions on laptops, tablets and smartphones.
Wellness
Magazine publisher Rodale has aggregated content from magazines such as Men's Health, Women's Health, Runner's World, Bicycling and Prevention. There's also a Map my Ride, Map my Run app that might help you burn off the 580 calories in a Double Chocolate Chip Frappuccino.
Business and Careers
Yahoo Finance
LinkedIn: Starbucks Digital Network users can take advantage of exclusive LinkedIn features such as blogs and videos geared toward getting you off that plush couch and into a career.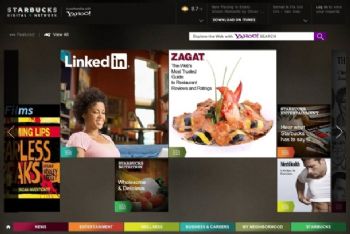 My Neighborhood
Foursquare: as if we need more location-based services, Foursquare's partnership with Starbucks
Zagat: delivering restaurant suggestions, ratings and locations based on the Starbucks you're sitting in. Another reason to get off your tookus.
Patch: powered by AOL, Patch is available in only 17 states (though it is taking suggestions). Patch delves into specific neighborhoods to deliver highly localized news. For instance, there's no Boston proper page, but its South End neighborhood gets coverage.
DonorsChoose.org: a unique charity Website wherein public school teachers from all across America post classroom project requests such as pencils, musical instruments, and more. Philanthropists can donate money directly through the site.
If the Starbucks Digital Network is a success and carries with it some kind of influence over the way media is digested, I imagine many others will jump on the bandwagon and create Starbucks-only content and apps that'll force you to get a refill.
Love 'em or hate 'em, Starbucks has created a powerful destination that covers essentially everything you'd need from the Web. The downside: this could greatly increase the number of loafers hogging chairs and rotting away for hours at their laptops.