Every time reader Charles boots his PC, he sees an Internet Explorer Script Error like this: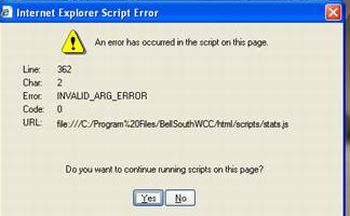 It's not the same one each time, either. And to further confound the matter, Charles has configured Google Chrome as his default browser–so why is he seeing Internet Explorer errors?
I won't spend a lot of time on the "why"–let's just chalk it up to the joy that is Windows. Weird, inexplicable, annoying things like these just happen sometimes.
As for fixing the problem, that may be easier than you think. You didn't tell me what version of Windows or IE you're using (always include that kind of information, people!), but I can deduce from the screenshots that it's IE7 or IE8 on Windows XP. So here's what you need to do:
1. Start Internet Explorer.
2. Click Tools, Internet Options.
3. Click the Advanced tab, then scroll down to the Browsing section.
4. Check the boxes next to Disable script debugging (Internet Explorer) and Disable script debugging (Other).
5. Clear the checkbox next to Display a notification about every script error.
6. Click OK, then reboot. Those startup script errors should pester you no more.