It's common knowledge that Batman's not-so-secret headquarters, the Batcave, is located under the mansion of the Caped Crusader's alter ego Bruce Wayne. So imagine the surprise among followers of the Dark Knight when Google Maps revealed a huge version of the Masked Manhunter's famous logo on the roof of a hangar at Kadena Air Base in Okinawa, Japan. Could it be the Asian headquarters of the Cowled Crimefighter?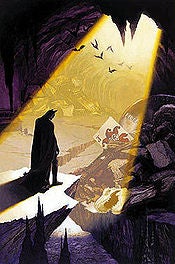 Not quite. It seems the world renowned symbol, painted in white and visible from the air, marks the home of the Air Force's 44th Fighter Squadron, also known as the Vampire Bats, Stars and Stripes reported. It's believed that the logo was painted on the hangar in the 1980s, but no one knows for sure, the newspaper said. ""We know it's been there for years…and is somewhat common for esprit de corps around the Air Force as it gives members of the squadron pride in their unit," a spokesman for the air base, Ed Gulick, told the military publication.
Although the location of the logo isn't exactly a military secret, security questions could be raised about publishing satellite photos of restricted military bases which can be accessed by anyone with a laptop. Google has been in hot water with the Pentagon before for creating 360-degree views of control points, barriers, headquarters, facilities and community areas of Fort Sam Houston in San Antonio, Texas.
It remains to be seen if Google is going to be reprimanded again for this latest apparent breach of military security. As for Batman, he hasn't been responding to the bat signal for comment.