Facebook has filed lawsuits aimed at cracking down on a variety of scams that have been running wild on the social-networking site in recent months.
The lawsuits accuse two men, Steven Richter of Kings Park, New York, and Jason Swan of Las Vegas, of attempting to trick Facebook users into visiting Internet marketing websites. A Canadian affiliate marketing company, MaxBounty, is named in a third lawsuit. All three were filed Tuesday in federal court in San Jose, California.
"The focus on the cases we filed this week was to go after people who try to leverage our brands, our applications, and our pages to promote their scams and to propagate them using spam," said Craig Clark, Facebook's litigation counsel.
The lawsuits target what's become a big problem for Facebook in the past year: too-good-to-be-true offers that flood the social network, often promoted by gullible users. Victims are typically told that they must post the commercial message to their friends' Facebook pages to qualify for US$1,000 gift cards or free iPads. The offers are ultimately either fraudulent or involve signing up for expensive online services.
In a post to the Facebook Security group Wednesday the company said, "the defendants, among other things, represented that in order to qualify for certain fake or deceptive offers, people had to spam their friends, sign up for automatic mobile phone subscription services, or provide other information."
Swan created Web pages with fake Facebook "dislike buttons" that redirected victims through "a series of unwanted commercial websites that took the users' money and paid [Swan] for Internet traffic," according to Facebook's lawsuit.
Richter is accused of making fake "Facebook Gold Account" pages that offered users nifty features such as video chat with no advertising. Victims who clicked on the links ended up on marketing websites, Facebook said. Richter earned about $170,000 from one marketing company by luring more than 388,000 Facebook users to these sites, Facebook said.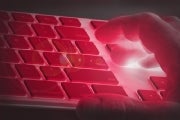 Facebook has sued spammers in the past, but this time the company has also taken aim at an affiliate marketing company, MaxBounty. Affiliate marketing companies pay members to generate Internet traffic but are not the ones who directly entice visitors into clicking on links and are not usually named in spam-related lawsuits.
But Facebook calls MaxBounty the "mastermind" of several spam schemes. In court filings it says MaxBounty "encouraged its affiliates to carry out these schemes by providing them with assurances that their advertising methods were legitimate, by encouraging and coaching affiliates on ways to increase the effectiveness of their Facebook activities, and by providing technical support and substantial financial gain to the affiliates who agreed to participate in the scheme."
MacBounty affiliates created Facebook Pages that advertised free gift cards and iPads, but tricked victims into spamming their friends and then redirected them to websites that collected personal information, Facebook said.
This is the first time Facebook has sued an affiliate marketing company in this type of case, Facebook's Clark said.
The Ottawa company could not be reached immediately for comment. Its website lists a large number of gift card offers as "Current MaxBounty Campaigns."
According to this page, MaxBounty pays affiliates between a few pennies and about $0.50 per click, depending on the campaign. If the Web surfer fills out a survey or signs up for a program, the payout is much higher: sometimes as much as $115 per sale.
Robert McMillan covers computer security and general technology breaking news for The IDG News Service. Follow Robert on Twitter at @bobmcmillan. Robert's e-mail address is robert_mcmillan@idg.com