The MacBook Air(s) have been revealed. The slim, sleek notebooks are impressive on a number of levels, and could provide an exceptional mobile computing platform. However, despite Apple seemingly going out of its way to bring the price barrier below $1000, the MacBook Air may still be a very difficult purchase to justify.
When the initial rumors of the MacBook Air refresh first started earlier this year, I admit that I found it intriguing. I was definitely anxious to see what Apple would unveil, and seriously considering whether this new and improved MacBook Air might be my first ever Apple computer purchase.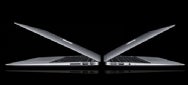 Now that Apple has unveiled the new MacBook Air models, I find myself in a very familiar quandary–at least when it comes to Apple. Basically, I think the MacBook Air is awesome. It fits the signature Apple model–a marvel of engineering genius, and exceptional aesthetics. But, in terms of what it actually does and what I would actually use it for, the cost is simply too high to defend relative to comparable notebooks.
Granted, other notebooks aren't barely more than half an inch thick, and typically weigh more than two pounds. Other notebooks don't have the Apple touchpad with multi-touch and pinch-to-zoom. Other notebooks aren't instant-on and virtually silent. However, other notebooks are capable of actually getting the same work done–and do it for half the money.
Instead of an 11.6-inch MacBook Air for $999, I can get an 11.6-inch Dell Inspiron M101z for less than $500. It only has a single-core CPU, but it has the same RAM, respectable battery life, and four times the storage with a 250GB hard drive. It is about twice as thick and twice as heavy as the MacBook Air, but it also includes a 7-in-1 media card reader, and an HDMI out. I can even add a 1TB Western Digital Passport external USB drive and a comprehensive three-year on-site warranty plan and still come in more than $250 less than the cheapest MacBook Air.
In Video: New MacBook Air Models Are Lighter, But Still Expensive
If I want a bigger computer–something to compare with the 13-inch MacBook Air, I could look at something like the Gateway NV59C66u–available from Best Buy for $629.99. It has a 2.4GHz Intel Core i3 processor, 4GB of RAM, a 500GB hard drive, and a built-in DVD drive capable of playing Blu-ray discs. It also has built-in WiMax mobile broadband functionality (assuming you purchase the separate wireless service contract). That's a lot of power, and bang for the buck, for a device that costs less than half the 256GB 13-inch MacBook Air.
Besides, I am heavily invested in Windows-based software and I need to be able to work with and write about both platforms. Part of the appeal for me of moving to a MacBook is the ability to run Windows 7 alongside the Mac OS X platform. But, the processor, storage capacity and RAM included in the 13-inch MacBook Air would make that a frustrating exercise at best. On the smaller 11.6-inch MacBook Air, I doubt if you could do it at all.
Sadly, I have to say that once I wipe the stars from my eyes and remove myself from the magic of Apple's reality distortion field; I don't think the MacBook Air will be my next notebook after all. However, the standard MacBook is still up for consideration simply for the ability to operate dual-platform between Mac OS X and Windows 7.
I think I will make a more pragmatic notebook purchase, and save my frivolous extravagance funds for the iPad 2.0.