At a Glance
Expert's Rating
Pros
Stellar general performance for the price
Great power efficiency
Our Verdict
AMD's Radeon HD 6800 series has arrived, and the results speak for themselves: The Radeon HD 6870 is the midrange card to beat.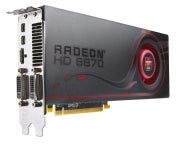 The Radeon HD 6870 is the larger, more capable member of AMD's new 6800 series lineup (the other newcomer is the Radeon HD 6850). Priced at a respectable $239 (as of October 21, 2010), this midrange graphics card manages to outpace its closest relative–the Radeon HD 5850 ($279)–while doing minimal damage to your bank balance.
Models in the Radeon HD 6800 series offer a new chip architecture, code-named Barts. It's a modified version of the chip architecture (dubbed Cypress) featured in the Radeon HD 5850 and 5870 graphics cards, cutting back on Cypress's size but still delivering excellent performance. Be sure to check out Jason Cross's expansive overview of the Radeon HD 6800 GPUs and their architecture, for a deep dive into what's happening under the hood.
If you're already familiar with AMD's 5800 series of graphics cards, you'll be right at home with the 6800-series cards. In addition to sporting a similar aesthetic design to its predecessors', the Radeon HD 6870 comes equipped with AMD's Eyefinity Technology, which allows you to drive up to three displays from a single card. The card has a pair of DVI ports (one dual-link and one single-link), an HDMI port, and two mini-DisplayPort connectors. The variety is admirable, but keep in mind that you'll need a pair of mini-DisplayPort adapters.
At long last, AMD has also implemented HD3D, the company's take on 3D–and its answer to nVidia's GeForce 3D Vision. HD3D focuses on support for the Open Stereo 3D Initiative. Instead of creating dedicated hardware, HD3D promises support for a wide variety of methods, ranging from existing active-shutter or polarized glasses, to glasses-free 3D technologies that will eventually work their way to market.
Where performance is concerned, the Radeon HD 6870 made an impressive showing on synthetic benchmarks and in real-world games. Though results on synthetic benchmarks don't necessarily reflect real-world performance, they do provide a useful idea of how a particular GPU stacks up against the competition. The HD 6870 maintained a consistent lead over the older Radeon HD 5850 in all of our synthetic tests. It's a pleasure to see a card outperform another while costing about $40 less, but the results here are hardly surprising: The HD 6870 sports an improved tessellation engine and runs at a higher clock speed than the HD 5850, lending the smaller card more muscle in all the right places.
In actual game testing, the performance gap narrowed, but the HD 6870 still came out ahead. All tests were performed at resolutions of 1920 by 1200 and 1680 by 1050 with maximum available settings, and with antialiasing alternately enabled and disabled. The Radeon HD 5850 earned the better score on our Tom Clancy's H.A.W.X. benchmark, but barely: The average difference of 6 frames per second doesn't justify the $40 bump in price.
Where power utilization is concerned, the HD 6870 gobbles up a bit more energy when under load on our test bench–246 watts, versus the HD 5850's 231 watts. But it's more energy-efficient when idle, consuming 103 watts at rest versus the HD 5850's 127 watts. Keep in mind that those totals take the entire system's load into account, so your own measurements will vary; our test bench sports a power-hungry Intel Core i7 980X processor and its accompanying gargantuan heatsink.
In terms of relative power efficiency, the Radeon HD 5850 edged past the HD 6870 ever so slightly–but bear in mind that the 6870 keeps the idle power lower by about 30 watts.
Overall, this choice is a no brainer. AMD's Radeon HD 5850 had a good run, but it's outclassed by a newcomer that delivers superior performance, comparable power efficiency, and a lower price tag. A great card may be riding off into the sunset, but the Radeon HD 6870 is a very worthy successor.