The first reviews of Microsoft's new Windows Phone 7 are in. Smartphones running the new OS will soon join the millions of iPhone and Android phones, but do they stand a chance? Reviewers are sceptical about the immediate success of Windows Phone 7 devices, as they are missing too many features, but still see a chance for Microsoft's shiny new user interface.
What's missing in Windows Phone 7 are features that were not included in some early version of the iPhone, or Android, namely copy/paste, multitasking or Adobe Flash support. Apple and Google however, had a couple of years head start to work on these issues, most of which are now solved. So is Windows Phone 7 offering too little too late? Here's what the first reviews are saying.
PCWorld's Ginny Mies spent some time with Windows Phone 7 devices, and thinks Microsoft has done "an excellent job" with the user interface, performance and functionality. However, Mies notes, the absence of features like copy/paste, third-party multitasking and Flash support "are big disappointments and set the OS behind both the Android and iPhone OSs."
Wall Street Journal's Walt Mossberg is also not convinced about Windows Phone 7: "Overall, I can't recommend Windows Phone 7 as being on a par with iPhone or Android-at least not yet." He notes in his review he "couldn't find a killer innovation that would be likely to make iPhone or Android users envious," and sees "Windows Phone 7 as inferior to iPhone and Android for most average users. It's simply not fully baked yet."
ComputerWorld's Dan Rosenbaum thinks Microsoft did the right choice "in choosing between the simplicity and elegance of the iPhone and the power and deep configurability of Android, Microsoft has plainly (and perhaps surprisingly) opted for the former." He says the new OS is "genuinely innovative, but whether you should buy it on Day One depends largely on your appetite for new things."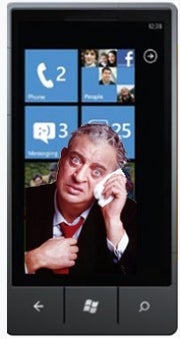 Reviewing for Engadget, Joshua Topolsky writes that Windows Phone 7 "is a good year behind market leaders right now, and though it's clear the folks in Redmond are doing everything they can to get this platform up to snuff, it's also clear that they're not there yet." Despite this, "Microsoft has done an outstanding job with lots of aspects of this UI, particularly when it comes to navigation and ease of use — but there are holes here as well," Topolsky notes.
CNet's Bonnie Cha debates that "It's absolutely mind-boggling that Windows Phone 7 is missing some very fundamental features, like copy/paste, third-party multitasking, and universal search." She concludes that "Microsoft's long road to a comeback won't be an easy one, but at least it's now headed down the right path."
Gizmodo's Matt Buchanan is much more impressed however: "Windows Phone 7 is really great. A solid foundation, it's elegant and joyful. True, a lot of that greatness is potential. But if anybody can follow through on their platform, it's Microsoft." He avoids recommending it over an iPhone or Android device right now: "In six months, after the ecosystem has filled out, the answer will be more clear."
In Video: A Frist Look at Windows Phone 7
Follow Daniel Ionescu and Today @ PCWorld on Twitter