Since the wireless industry can't yet agree on a single definition for the term "4G," it should be no surprise that the 4G World show in Chicago this week saw top service providers deliver mixed messages about what consumers might be able to expect from the "fourth generation" of cellular services over the next year. But one thing is clear: We're a lot closer to enjoying the faster speeds of the new networks than we were a year ago, and the advance of the technology is picking up speed.
While base-technology choices and network-deployment time frames differ greatly among the country's top providers, the cellular carriers agree to some extent about what consumers will see throughout 2011: more connected devices, faster network speeds to support better video and data-download connections, and a wide range of new pricing plans aimed at all segments of the rapidly expanding mobile-data market.
Even if the carriers can't agree on what 4G really is, they all know that potential customers are already clamoring for more ways to connect, at faster speeds–and to stay competitive, the carriers must respond. "There's a new normal being created," said Matt Carter, president of Sprint's 4G operations, who noted in an interview that Sprint has seen data use "explode" on the company's 4G network. "Today we call that person a 'heavy user,'" Carter said. "But that amount of network use is becoming the new normal."
4G: Where We Stand Now
The WiMax-based network built by Clearwire (and used by partner and majority owner Sprint) will continue to offer 4G services to the largest number of U.S. markets, with 56 cities already live and three major markets–Los Angeles, New York, and San Francisco–slated to come online before the end of the year. At the show, Sprint announced a Dell netbook and laptop with embedded 3G and 4G service options, adding to its list of 4G-enabled devices.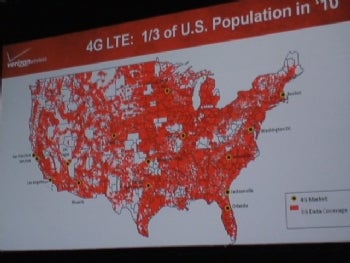 Before the end of 2010, however, the Sprint/Clearwire combo is scheduled to get its first real competition in the 4G arena when Verizon launches its Long Term Evolution network. Although Verizon wasn't at the 4G World show, its announcement earlier this month of the 39 cities and 60-plus airports included in its planned 2010 LTE rollout was a competitive presence in all 4G discussions at the McCormick Center this week.
While AT&T didn't elaborate on its 4G plans at the show (other than to confirm its already announced schedule of limited LTE launches by mid-2011), the company did talk about implementing a new range of pricing models for both its 3G and 4G networks similar to the pay-as-you-go plan that accompanied AT&T's successful launch of the 3G-enabled Apple iPad.
T-Mobile, meanwhile, used the show to continue touting its HSPA+ network as a "4G" service, even though the technology is widely regarded as a souped-up version of a 3G service. And even prepaid-market provider MetroPCS continued to make noise in the 4G space, announcing during the show the addition of Detroit to the list of cities where the company offers its LTE phone.
The following is a quick roundup from the show, a look at what each of the top wireless providers had to say about 4G plans for 2011 and beyond.
Clearwire's LTE Is a 'Potential Future'
More so than any of its competitors, Clearwire used the 4G World platform to talk about farsighted visions for 4G, in which download speeds might be another ten times faster than they are today. Chief commercial officer Mike Sievert said the company's recent tests of LTE technology in Phoenix produced download speeds of more than 90 megabits per second and upload speeds of more than 30 mbps, numbers that would eclipse the high-single-digit and low-teens mbps numbers currently seen on Clearwire's existing WiMax network and Verizon's planned LTE implementation.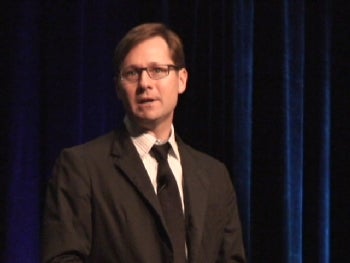 "What you have here is something massively different–this isn't your grandfather's LTE," said Sievert. The juice behind the faster LTE speeds, Sievert said, was Clearwire's ability to tap its massive spectrum portfolio–which is an order of magnitude bigger than any other carrier's–and to use wider wireless "channels" to provide faster connections. The 20MHz channels used in its "LTE 2X" trial, Sievert noted, were twice as large as the 10MHz channels Verizon plans to use in its LTE deployment.
Though Clearwire didn't announce specific plans to deploy LTE in the future ("this is a potential future for us, but we haven't made a decision," Sievert said), Sievert ended his talk by calling for the industry to develop multimode LTE/WiMax devices that would bridge the gap between different networks on different technologies, much like today's hybrid offerings from Clearwire and Sprint that provide access to both 3G and 4G networks. That way, he said, users can have access to faster networks without having to worry about the underlying technology label.
"We need to get people away from the alphabet soup they don't care about, and just provide a better experience," Sievert said. "There really is a massive consumer demand [for 4G services]. The question is now, how do you stay ahead of that tidal wave of demand?"
For Clearwire, any new business for 2011 must wait until the company figures out how it will obtain additional funding for operations and network buildouts, a process that may involve more investment from majority owner Sprint, or a sale or rental of some spectrum assets. Sievert wouldn't comment on recent stories claiming that a possible auction of Clearwire's spectrum assets is already under way.
Pending any radical changes to the company's fiscal fortunes, Sievert said that for 2011 Clearwire would focus on "keeping our head down and completing the network [buildout] we started." Clearwire, which will report its third-quarter figures in early November, has said that it is on track to end the year with 3 million subscribers on its 4G network, including customers signed up by its wholesale partners. In 2011, retailer Best Buy will also resell Clearwire's services under its Best Buy Connect program. Additionally, Clearwire is now offering prepaid wireless data services under its Rover brand of devices.
Sprint Will Leverage Its 4G Head Start
Like its partner Clearwire, Sprint in 2011 will concentrate on reaping the benefits of its rapid 4G network buildout in 2010, which will conclude with the addition of Los Angeles, New York, and San Francisco in the last two months of the year.
"We'll have a continued expansion of the existing network throughout 2010," said Matt Carter, Sprint's president of 4G, in an interview. "We feel like we've laid the foundation. Now it's just about filling in the holes."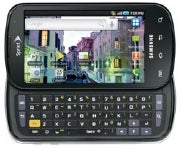 As the biggest wireless brand with a true 4G-network option, Sprint has taken the lead in bringing new devices to the WiMax network. At 4G World the company announced what it called the first "hybrid" netbook and laptop, compact devices from Dell that include embedded radios to connect to either Sprint's 3G network or the 4G WiMax network where available.
Although many observers think that Verizon's pending LTE launch may steal some of the 4G market leadership from Sprint and Clearwire, Carter said that he welcomed the arrival of Verizon's services since it gives Sprint another chance to show how its bigger spectrum position allows Sprint and Clearwire to offer true "unlimited" data plans as opposed to pay-per-bit or data-capped plans.
"We've been hearing a lot about how when Verizon gets out there, the plans will be tiered or more restricted in terms of use," Carter said. "That lets us ask users if they want that, or do they want to come over here and enjoy an unlimited buffet of data."
Without giving specific product plans, Carter said that Sprint will be looking to add at the very least more volumes of its two WiMax smartphones introduced in 2010, the HTC EVO 4G and the Samsung Epic 4G. The EVO–which sold out in many markets after being introduced in June–and the Epic have garnered rave reviews, especially for their ability to display video.
"We'd love to get more of those devices on a timely basis," said Carter.
Verizon: 4G Phones, Tablets Coming Soon
In early October, Verizon started beating the promotional drum on its forthcoming LTE-based 4G network, by announcing a list of 39 cities and more than 60 airports that would be covered when the service went live later in 2010. Although Verizon didn't announce pricing plan or device details, the company is expected to go to market first with laptop USB modems, which will also be able to connect to the company's 3G network when LTE services are unavailable.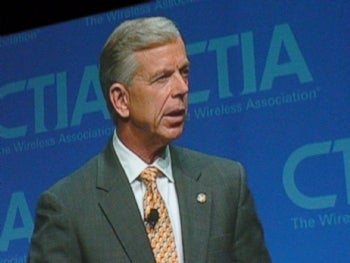 The list of "NFL cities" includes all major metropolitan areas in the United States, as well as most of the country's biggest airports, in a nod toward supporting the business professional that Verizon sees as its early-adopter user. "These are major markets and we're covering them in a major way," said Verizon Wireless president and CEO Lowell McAdam during a press event at the CTIA show in San Francisco. Verizon says it will reach 75 percent of the populations of its 39 new markets at launch.
Verizon, which recently announced plans to sell Apple's iPad bundled with its 3G wireless MiFi router, expects to have a multitude of devices available for its 4G network later in 2011. "You will see [4G] tablets, smartphones, and M2M devices roll out over the first half of next year," said McAdam, who mentioned that Verizon will announce most of its LTE details at the CES show in Las Vegas in January–with Google CEO Eric Schmidt alongside, presumably to talk about Android-based devices for the LTE network.
The expected speeds on Verizon's LTE network are 5 to 12 mbps on the download and 2 to 5 mbps on the upload. The key detail for many potential users, however, will be the pricing plans for LTE, which are expected to be of the tiered or pay-for-what-you-use variety instead of the current 3G cellular data plans, which roughly average $60 for 5GB of data per month.
"We think there's a place for unlimited plans, but [most of] our customers will need to shift their consumption to a pay-as-you-use plan," McAdam said.
AT&T Remains Quiet on 4G
Judging by AT&T's comments at 4G World, the company is still very much focused on the 3G world.
David Haight, AT&T's vice president for business development in the company's emerging devices unit, says his company is sticking to its plan to cover 70 to 75 million users with LTE rollouts in the second half of 2011. Earlier this month, at the CTIA show in San Francisco, AT&T introduced USB dongles that will be software-upgradable to work with the LTE network when it launches.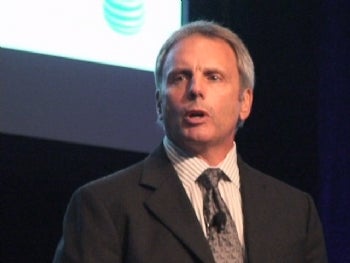 And that's it. If there was a surprise from AT&T at 4G World, it was listening to one of its top execs show some humility–by admitting that the carrier was more than partly to blame for the low acceptance of its 3G-embedded laptop and netbook marketing plans.
"I think we've gotten it wrong" on embedded-device pricing plans, Haight said. The $60-a-month plan and a two-year contract, he said, was not a great job of marketing. "People didn't want that," he said.
Of course, it's easy to admit mistakes when you also have a big win on your side, namely the runaway success of AT&T's exclusive deal to sell 3G-enabled versions of Apple's iPad. Again, while not necessarily about 4G, Haight's crowing about the lower-cost, pay-as-you-go data plans available for the iPad is something that you might hear more of from AT&T as the company rolls out its own LTE network beginning in the latter part of 2011.
"The fact that people didn't have to sign a contract gave them more of a feeling of being in control" of their broadband plan, Haight said, adding that the on-screen purchase procedure (which was not unlike the familiar iTunes store model) was also appealing to users. Haight predicted "an explosion" of tablets in early 2011. He says tablets with embedded cellular radios (3G or 4G) will become more popular than Wi-Fi-only tablets, and more popular than tablets bundled with some other form of connectivity, such as the iPads with MiFi wireless routers that Verizon plans to sell.
"We think having the connectivity on the device itself gives you much greater ease of use," Haight said.
T-Mobile's HSPA+: 4G or Not 4G?
Without announcing any new plans, T-Mobile executives at the 4G World show spent a lot of time advancing a somewhat new notion: that the company's HSPA+ network should be seen as a true "4G" competitor, even if the technology is generally regarded as being of 3G vintage.
Standing in front of a presentation slide titled "HSPA+ delivers a 4G experience," which showed the technology able to move toward multimegabit speed rates in the near future, T-Mobile senior director of engineering Mark McDiarmid said that end users should be the judge and jury on what is 4G and what is not. Currently, T-Mobile is somewhat foggy on what kind of speeds its HSPA+ network will deliver, advertising "theoretical peak download speeds" of 21 mbps that probably aren't seen in the real world. Although some reviewers have tested the T-Mobile gear (such as its new HSPA+ smartphone, the G2 Android device) at speeds rivaling or besting those on the Sprint/Clearwire network, the fact that T-Mobile has issued no official statement on the expected throughput speeds of the HSPA+ network raises questions about its true capacity and reliability.
"Ultimately, consumers will decide if what we're offering is a good value or not," said McDiarmid in a short interview after a panel discussion. Though McDiarmid and T-Mobile see LTE in the future, "there's too much opportunity in HSPA+ that can be exploited and taken to market" to move to LTE right now, he said. T-Mobile, he noted, will have HSPA+ networks in 100 major metro areas by the end of 2010, up from the 65 markets where it is available now.
As for new devices coming to the network, McDiarmid predicted that "in the next 5 years you're going to see a pull toward more low-end smartphones," and said that HSPA+ would be a better base technology for such devices since it could support them at a much lower price point than similar devices using WiMax or LTE.
Paul Kapustka is editor and founder of Sidecut Reports, an independent research firm that specializes in wireless technologies.