At a Glance
Expert's Rating
Pros
Excellent price-to-performance ratio
Great power efficiency
Our Verdict
The AMD Radeon HD 6850 is an impressive performer, and its modest price tag will blow you away.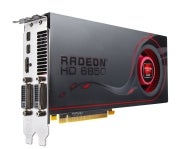 Don't be fooled by the Radeon HD 6850's position on the 6800-series totem pole. It may occupy the lower end of the current pairing, but this card is more than a match for the GPU it ostensibly replaces–and it gives even the beefier Radeon HD 5850 a run for its money. Priced at $179 (as of October 21, 2010), the Radeon HD 6850 might not top the charts, but it achieves an excellent price-to-performance ratio that's sure to please frugal gamers.
Like the larger Radeon HD 6870, the Radeon HD 6850 is built on a new chip architecture, code-named Barts–a modified version of the Cypress chip architecture that powers the older Radeon HD 5850 and 5870 graphics cards. The new architecture cuts back on size, but still delivers performance in spades. For a deep dive into the technical features of the Radeon HD 6800 series, be sure to check out Jason Cross's expansive overview.
Aesthetically, the Radeon HD 6850 is nearly identical to (albeit a bit shorter than) the 6870. Both cards are equipped with AMD's Eyefinity Technology, which will allow you to drive as many as three displays from a single card, and they sport an array of connecters: a pair of DVI ports (one dual-link and one single-link), an HDMI port, and two mini-DisplayPort connectors (which require a pair of adapters in order to work).
On our synthetic benchmark tests, the HD 6850 thoroughly outperformed the $149 Radeon HD 5770. Even more impressively, it doesn't lag too far behind the Radeon HD 5850, which costs $100 more. On the Unigine Heaven benchmark, the HD 6850 consistently led the HD 5850 by 1 to 2 frames per second, thanks largely to the 6800 series' improved tessellation engine. Though synthetic benchmarks don't simulate real-world conditions, they provide a fair barometer of how competing GPUs stack up on certain parameters.
Games testing paints an even rosier picture of the 6850.It trailed the Radeon HD 5850 in performance, but not by much. The biggest gap was on Tom Clancy's H.A.W.X., where the HD 5850 enjoyed an average advantage of 16 frames per second–but that's not bad for a $100 discount, and the gap shrinks once antialiasing is enabled.
Because the Radeon HD 5770 is a smaller card, it demands less power under full load: 200 watts, versus 219 watts for the HD 6850. On the other hand, the HD 6850 demands less power when idle–102 watts, versus 105 watts for the HD 5770. And judged on overall power efficiency as gauged by performance per watt, the HD 6850 handily outscores the slower HD 5770.
AMD's Radeon 6850 may not lead the pack, but from a value standpoint, its price-to-performance ratio is tough to beat. And complementing its aggressive price tag is excellent gaming performance, which challenges even the impressive Radeon HD 5850. If your budget is tight but you refuse to skimp on performance, your graphics card has arrived.