Microsoft's release of Windows Phone 7 brings updated Word, Excel, PowerPoint, and OneNote Mobile, to your fingertips. The touchscreen-friendly revamp of Office Mobile is radically different from the previous version. And files are supposed to resemble their appearance on the desktop more closely.
Shrinking Word, Excel, PowerPoint, and OneNote to fit in the palm of your hand is no easy feat. Microsoft does a decent, though not spectacular, job of placing basic editing features on the hand. You swipe and slide through the screens (which feature large, legible fonts), tapping on the touchscreen keyboard to type.
Office Mobile comes preinstalled on Windows Phone 7 phones. I tested the tools on an HTC Surround for AT&T. If you have a Windows Phone 6.5 device, you can download an Office Mobile upgrade from the Windows Marketplace
Look, Feel, and Features
Documents appear in their fullly formatted glory, shrunken down. That means you see charts, graphics, bullet points, numbered lists, slideshow transitions, and animation. Word text flows for optimal viewing as you turn the phone sideways.
From the Office Hub, you can hold down the name of a file and get options to send or delete it, or to view the properites. I'm not sure, though, why OneNote notebooks can appear as a Tile while Word, Excel, and PowerPoint files show up in a text list.
New XML support means that you can open DOCX and other such "X" files, introduced in Office 2007, on the handset seamlessly. PowerPoint Mobile lets you read, not edit, PPT, PPS, PPSX, and PPSM files. Longtime users dealing with various document types will enjoy not needing to deal with an add-on.
A major annoyance is the lack of cut-and-paste functionality, although Microsoft says that's coming in 2011. Most people are likely to use a phone to make quick tweaks to documents, so you'd naturally want to be able to copy, say, a remark from your boss's e-mail straight into a meeting agenda in Word. For now, at least, when you type words or names that you use frequently on the phone, predictive text makes suggestions you can autofill.
Another irritant (at least from a reviewer's perspective) is that you can't save a screenshot image of what appears on the phone's display.
In Video: Windows Phone 7, a Home Videoconferencing System, and More
Within the small Office Mobile interfaces, Microsoft's navigation highlights include an outline pane and hyplerlinked tables of contents within documents. The outline pane selects key points drawing from the headings of documents and slides. That's helpful if you're wrangling with a long file.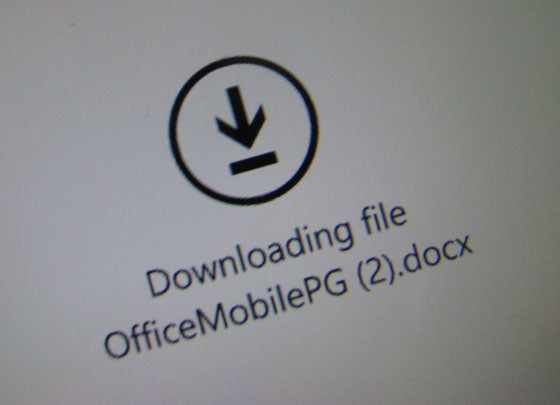 If that doesn't help you find the key point on page 52 of your white paper, from the app bar in Word and Excel, you can tap Find, the magnifying- glass icon, to look up keywords.
Comments on Office documents will automatically get the identity of the person registered as the phone's owner. You should be careful if, in some rare case, you use a friend's or coworker's phone to make changes to a document that you then send around.
Syncing and Sending
You can sync files whether you're an individual with a free Windows Live SkyDrive account–which offers up to 25GB of storage–or a member of a big company that leans on SharePoint for collaboration. Users of SharePoint, which I did not test, can manage stored files and import My Site links. SkyDrive users, however, get a dismally limited version of syncing for the phone: It syncs only OneNote notebooks.
To get started with SkyDrive on the phone, you first register the phone with a Windows Live ID. Other than that, you'll have to dig to find any mention of the free service. There's too much emphasis on SharePoint, which the majority of individuals and small businesses don't use.
When ready to sync OneNote via SkyDrive, you visit Office on the phone, go to OneNote, select All, then touch the Refresh icon. I would never have found that without the Microsoft product guide.
But because I couldn't sync Word, Excel, and PowerPoint files among my desktop, the Web, and the phone using SkyDrive, I resorted to e-mailing them to myself.
Opening a 36-page Word document attched in Hotmail on the handset took several minutes, but only a few seconds for a 10-page file. Word Mobile rendered formatting, fonts, and images beautifully.
Next page: Word and Excel
After answering a phone call and sending text messages, though, it was torture figuring out how to return to the last document. I went back to Hotmail, and the document was no longer open. I went to the Office menu, yet the document did not appear. (I thought the iOS, despite its lack of multitasking, to be more intuitive than Windows Phone 7 for finding your previous place after an interruption.)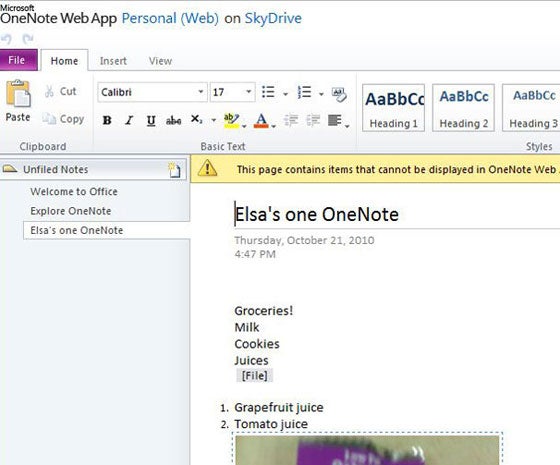 My lesson was to remember to save a document the moment you open it. When you do that, you can be sure it will appear in the Office Hub even if you get interrupted right away.
And wait, how did I get to the point of e-mailing files to myself again? I stopped doing that when Writely, the Google Docs predecessor, launched more than 5 years ago.
I didn't realize that with Windows Phone 7 you can also access Office files from a browser at office.live.com. That worked swimmingly with even a long Word doc. But your guess is as good as mine as to why I received an error trying to download a small XLS file that was perfectly fine when I downloaded it to my desktop from SkyDrive.
OneNote
Microsoft is emphasizing OneNote, its handy note-taking program for those who get to know it. It's great for lists of things like to-do items, meeting notes, and grocery lists, and you can even add phone voice recordings and photos. Windows Phone 7-style Tiles organize your searchable notes, which are easy to find when you open Office Mobile.
When I added my voice recording and a picture to a grocery list, though, it was tricky to prevent the touchscreen from popping up and getting in the way of a full view of the note.
My OneNote notebook synced quickly from the phone to the Web via SkyDrive, appearing in My Documents in a Personal (Web) notebook. My 10-second voice recording in OneNote could not display online. For that, I'd have to use the desktop OneNote.
Word
Office Mobile appears be better for viewing documents created on a desktop than for working with a blank slate. Creating a Word or Excel document from scratch is no easy task on a tiny phone with a touchscreen keyboard. At the same time, you can at least get started writing, then e-mail the document to yourself for better access later at a desktop PC.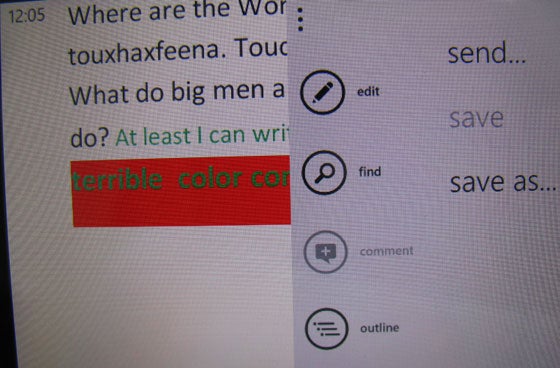 The default icons on the bottom of Word could be more helpful: Outline, Comment, Find, and Edit. Clicking three dots opens sending and saving options. You'll see more formatting tools when you're working on the text.
Just as in Office for the desktop, contextual menus shift depending on what you're working on. For example, you're unable to work with a comment until you select a cell with a comment in it. This tends to drive me as crazy in Office Mobile as it does in Office 2010 for the desktop, but some users swear by it.
Excel
If you need to crunch numbers, Excel Mobile offers an impressive number of features, including 114 common functions. You can insert charts, apply filters, and do multilevel sorts. Once I got the hang of the contextual menus in Excel, it became more obvious how to finesse them.
Excel's interface offers three icons by default: Outline, Comment, and Find. The options expand to include options such as Sort, Apply Filter, Format Cell, Undo, Redo, Save, and Send.
Excel Mobile even lets you freeze frames, a handy way to jump through a long spreadsheet on a tiny screen. But I ran out of time trying to find that option.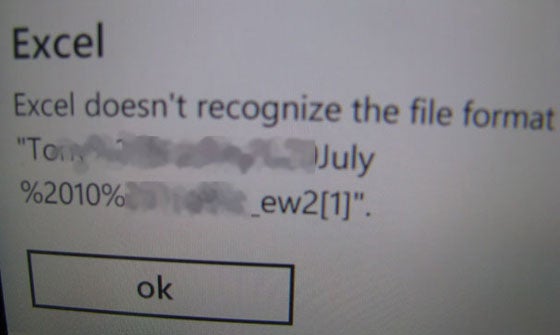 I fumbled around starting a new Excel spreadsheet on the phone, and accidentally typed stuff starting on the 17th line.
Could I cut and paste it to the first line? No. Nor could I quickly find a way to delete all the blank lines above what I'd typed. From the phone, I e-mailed myself the failed, brief Excel spreadsheet. But when I opened it from the desktop, the document was blank.
PowerPoint
You can view, but not create, PowerPoint presentations with Windows Phone 7. Creating PowerPoint slides from scratch on a phone does seem like a rare need, and one that would be tricky to execute on a small screen. I can see how some users might want that option, however. Still, you can edit slideshows sent as e-mail attachments.
If you're at the airport while your team is in a big meeting at the office, the person running the PowerPoint presentation can send you an e-mail invitation.
Open that in real time, and you can watch the slideshow live. You can even dial into the meeting and listen in while watching the presentation on the phone.
Next page: E-mail, and how useful is Office Mobile?
E-Mail
With Exchange, your Outlook e-mail inbox matches the one on your desktop at the office. Beefed up Exchange Server support lets IT administrators can set up one phone for multiple Exchange server accounts. (I wasn't able to test this by the time of posting, but I'm hoping to follow up in another story that explains how.)
You can set up POP3 and IMAP e-mail, and directly from third parties such as Google and Yahoo just by entering a user name and password.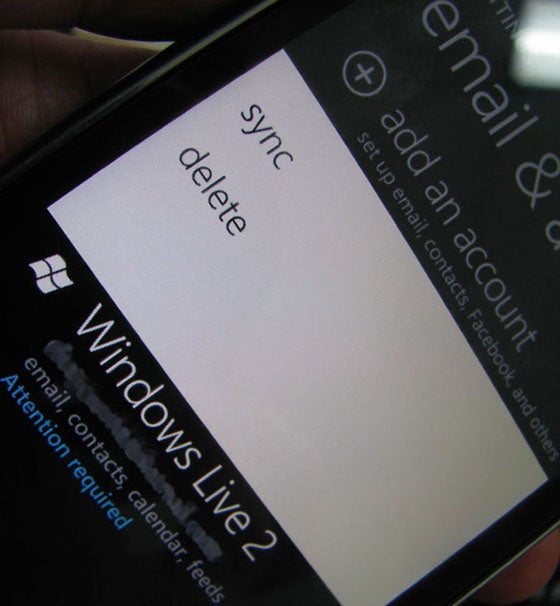 Because setting up my Gmail account did seem to be that painless, I happily e-mailed a number of documents from the phone, purportedly from my Gmail account to my work e-mail. When I checked later, however, none of the items I thought I'd e-mailed appeared in my Sent folder in Gmail or in my work inbox. Since I never saw an error message, I hadn't suspected a problem.
After setting up the account again, though, Gmail worked.
How Useful?
Being able to open, edit, comment on, and send around Microsoft files is extremely useful if you work on the road. The files look lovely when you open them. I just wish that the process of finding files you haven't yet saved after an interruption was more elegant.
Despite the usefulness of viewing Office files with Office Mobile, size matters when it comes to in-depth editing. Whether running around town or en route to far-off points, I'd rather navigate and edit heavy-duty work documents on a screen as least as large as that of the Samsung Galaxy Tab, if not the iPad. That said, Microsoft has clearly worked hard to make Office as practical as possible on a tiny screen.
However, I found it odd that Windows Phone 7 emphasizes two of the least popular Office products: SharePoint and OneNote. Sure, they're solid tools, but I want Word, PowerPoint, and Excel first and foremost. I don't really need to sync OneNote notes from my phone to a predetermined-by-Microsoft location within SkyDrive. On the other hand, if you're a OneNote fanboy, you'll love Office Mobile (anyone?).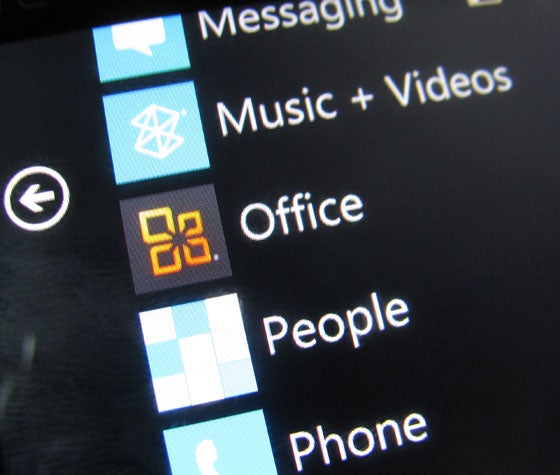 In my dreams, SkyDrive would be a prominent, central feature on the phone. It would seamlessly sync content the way so many other free services, like SugarSync, do at no cost. I hope that Microsoft will offer full-fledged syncing eventually.
As Windows Phone 7 lacks the banquet of third-party apps available for Android and iOS phones, Microsoft must be betting that Office Mobile will reel in users who rely on Office apps. That makes sense if your far-flung clients and colleagues constantly share work in Word, Excel, and PowerPoint. Heavy Excel users, particularly, will find more data-crunching options here than in other mobile apps.
For the majority of consumers, though, Office Mobile doesn't offer a compelling enough take-it-with-you set of tools to justify choosing a Microsoft phone over others. For anywhere-access to my work, I'd rather deal with Google Docs, despite its limited mobile editing for Android and iPad, than have to grapple with SkyDrive or e-mailing files on a Windows phone.
There's no live support available for Office Mobile if you're stuck, as is all too standard with software lately, but the online resources are thorough.
In Video: Windows Phone 7 Impresses on the Samsung Focus and HTC Surround