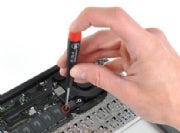 If the new MacBook Air is anything like the iPad, as Apple claims, then it should be almost as difficult to tinker with. Sure enough, iFixit's MacBook Air teardown reveals an almost-impenetrable fortress, packed with proprietary parts to discourage modification. Here's what iFixit learned from disregarding Apple's roadblocks and peeking inside the new MacBook Air:
Stay Out, Warns Apple
Even the screws that hold the MacBook Air together are proprietary. To get through the 5-point Security Torx screws, iFixit had to file down a couple of flathead screwdrivers. Normal 6-point Torx screws hold down the inside of the little laptop.
Like many of the MacBook Air's internal components, the RAM is soldered to the logic board and not user-replaceable, so whatever amount you choose at purchase is what you'll live with throughout the MacBook Air's life. iFixit recommends getting 4 GB for that reason.
Decent speakers
The MacBook Air's stereo speakers pump out "mad wattage," iFixit says – probably one or two watts.
Why it's so thin
The MacBook Air's slim profile is due, in large part, to the solid state drive, which is less than half the thickness of the previous generation's hard drives. It's also a completely custom part, assembled by Toshiba.
One chance for hacking
The low-end MacBook Air's 64 GB solid state drive is screwed to the logic board with T5 Torx screws and can be removed with relative ease. And it uses a mini-SATA connector, presenting an opportunity for hackers to fit more storage inside, but only if it can fit within the Air's 0.68-inch frame.
In Video: New MacBook Air Models Are Lighter, But Still Expensive