Suppose you downloaded a video from BitTorrent (it's okay, I won't tell), and you want to watch that video on your iPod, Android smartphone, or even just your laptop. Depending on the format that was used to create the video (I'm looking at you, MKV), it might not play properly.
That's why you need a converter, a utility that changes a video from one format to another. And I've yet to find one that's easier to use (or has a better name) than Hamster Free Video Converter.
Using it is literally a three-step process. First, you select the file(s) you want to convert, either by navigating a file menu or by just dragging the files to the Hamster window. Second, choose a generic output format (AVI, MPEG, or WMV, say) or a particular device: Apple TV, iPod Touch, HTC phone, Zune, or whatever. (Hamster has presets for 16 different gadgets.)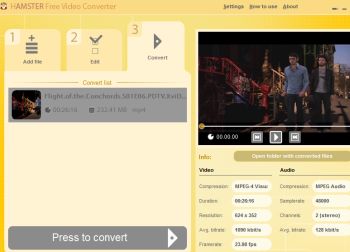 Finally, just click a button and sit back while Hamster goes to work. It doesn't get much easier than that.
One bit of advice: During installation, be sure to choose the Customization option and disable the Bing and toolbar options that the program wants to install. (I know the developers are just trying to pay the bills, but I can't abide this kind of sneakware.)