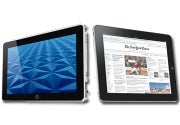 The HP Slate 500 tablet is red meat for technology fanboys on both sides of the ongoing Mac vs. PC debate. The HP Slate runs Microsoft's Windows 7 operating system and is gunning to compete with Apple's iOS-based iPad. Yep, you guessed it. It's chest pounding time.
At $799, the HP Slate is aimed at business users, who have already shown some interest in Apple's iPad. It's essentially a Windows 7 netbook sawed in half, for double the price. I don't mean that in a disparaging way; for some users, the Slate is exactly what they've wanted. For others, it's a pointless, overpriced device. As you'd expect, polarizing reactions abound at PC World and elsewhere, reminiscent of the Mac vs. PC debate that has become passe in the age of smartphones and tablets.
In one corner, you have the iPad converts. They see the tablet as a new kind of device — lightweight, with long battery life, running smartphone-style apps. To these folks, specialized touch screen platforms like iOS are the only way. "When are they going to learn," PC World reader hastaluego249 asked, "that touch doesn't work on an interface designed for point and click?"
In the other corner, you have the PC die-hards, who scoff at the idea of a watered-down OS. Unlike the iPad, they say, the HP Slate can actually get some work done, with a stylus for designers and all the programs they already own. "What the reviewer didn't mention (who knows why) of course are the standard applications the Slate can run instead of hobbled single purse quasi apps that all other tablets are forced to use," said halofaller in response to my colleague Daniel Ionescu's multi-tablet smackdown.
Unlike the iOS-Android debates that tend to flare up around here, arguments over the HP Slate's merits have little to do with openness, and everything to do with usefulness. It's about entertainment and everyday consumption vs. doing serious work. In other words, it's Mac vs. PC all over again.
Of course, there's no winner in this argument. Your preference is ultimately no one else's business, and over time Windows tablets will probably adjust to be more consumer-friendly, like iOS, while the iPad will add features that make it more productive, like Windows. The same thing already happened in desktop software. One thing's certain: all the while, sparks will fly.